One Ingredient, Many Ways: Bell Peppers
Bright and crunchy or smooth-roasted and mellow, bell peppers brighten up nearly any dish with their sweetness

Food professionals, those of us who have chosen to center our working lives around the edible, frequently share a number of life experiences in common. Many of us came to food through a self-imposed dietary restriction like vegetarianism, and the subsequent throwing off thereof. A lot of us had a revelatory food experience: a trip to France, Italy or Indonesia, say, that forever shifted our understanding of "delicious," and lies at the root of every food adventure we've had since.
And a good chunk of us were lunchtime losers: the kids whose parents denied us the riotous lunchtime pleasures of packaged snack food in favor of fresher, more wholesome fare. Like bell peppers: I remember acutely the elementary school embarrassment of snapping my way through a bag of crisp green pepper slices my mom had packed me for lunch. Meanwhile, my tablemates traded stacks of Oreos for bags of Cheetos. They always looked really happy. (Not too long ago, I learned that my friend and fellow lunchtime loser, SAVEUR senior editor Gabriella Gershenson, endured a virtually identical, peppery mortification.)
Of course, now I'm grateful. Partly because those early cafeteria humiliations build character—or something like that. But also because, while I hated feeling different than everyone else, I loved those fresh pepper spears. These days, I can express my pepper enthusiasm out in the open without the fear of bullying, so when bell peppers crowd the market in a rainbow of red, yellow, green, orange, brown, and purple, like they do each August, I don't hesitate. Chopped raw into salads, softened and served alongside Italian sausage or baked chicken, or roasted at high heat until their blistered skin gives way to sweet, slippery filets, they shine at the center of countless dishes. They also remind me to call my mom every so often and say, "thanks for lunch."
RAW
Cold Tomato Soup
This chilled summer soup combines fresh tomatoes, green pepper, and crusty bread.
Poor Man's Caviar
Black-eyed peas, scallions, and both red and green peppers combine in a salad that's equally delicious spread on bread or spooned from bowl.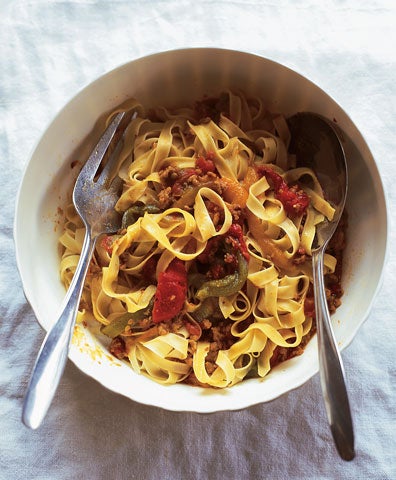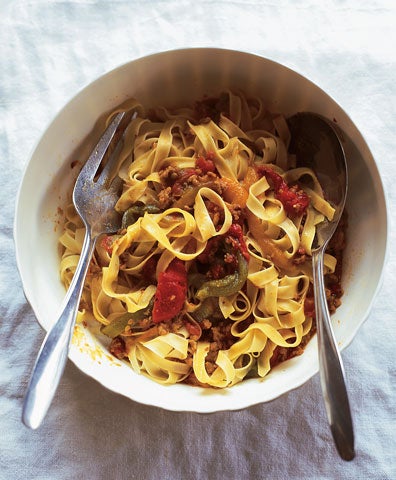 Veal Pasta Sauce with Red, Green, and Yellow Peppers
This sauce was given to us by author Marcella Hazan, who noted,"The veal is cooked separately and combined later with the peppers to preserve its juiciness." Get the recipe for Veal Pasta Sauce with Red, Green, and Yellow Peppers »
Credit: Christopher Hirsheimer
COOKED
Baked Chicken with Peppers
This vibrant baked chicken and peppers dish is as simple as it is classic.
Risotto with Green Beans and Yellow Pepper
Flecks of green bean and yellow pepper color a creamy, summery risotto.
Peppers in Tomato Sauce
Serve these preserved peppers over pasta or chicken for a bright meal.
Courtbouillion
A classic Louisiana stew gets its flavor from the Cajun holy trinity: a combination of celery, peppers, and onion.
Sausage and Peppers
Softened, cooked bell pepper slices offset sausage's spicy flavor.
Pesto Calabrese
This Southern Italian pesto gets its hue from tomatoes and red bell peppers.
Veal Pasta Sauce with Red and Green Peppers
Peppers help cut the richness of this hearty veal pasta sauce.
ROASTED
Green Pepper Butter
Minced roasted green pepper adds irresistible flavor to this savory compound butter.
Muhammara (Roasted Red Pepper, Walnut and Pomegranate Molasses Dip)
This Middle Eastern dip is one part sweet, one part tangy, and one part spicy; it's the perfect combination for slathering on sandwiches or serving with homemade pita chips.
Sweet Pepper Salad
Roasted red and green peppers get a kick from sugar and vinegar—great served with grilled meats.
Eggplant Stuffed Peppers
Bell peppers are blistered over a flame before being stuffed with eggplant, breadcrumbs, and anchovies.
Sardine Sandwich with Horseradish Cream
Thinly sliced roasted pepper and red onions top this creamy sardine sandwich.
Roasted Peppers and Anchovies
Dress up roasted red peppers with olive oil, parsley, and oil-packed anchovy filets.
Mechwiya
Serve this north African red pepper spread on top of kebabs or sandwiches.
Muffuletta Sandwich
This New Orleans classic meat sub gets a hit of flavor from roasted peppers.
Leah Koenig is a freelance writer and author of The Hadassah Everyday Cookbook: Daily Meals for the Contemporary Jewish Kitchen