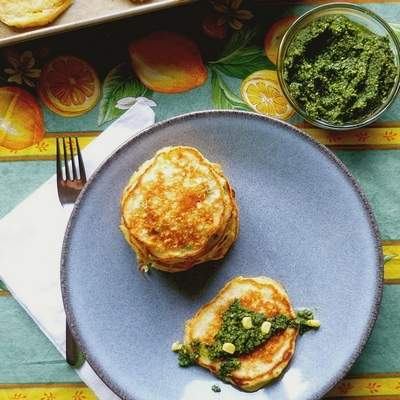 Culture
One Ingredient, Many Ways: Corn
Growing up in the Midwest, corn was a constant fixture of my summertime landscape - from the juicy cobs on my plate, as vibrant and yellow as the cold pats of butter softening on top of them, to the endless fields of parchment-colored stalks whirring past at 70 miles an hour on family road trips.
Back then corn was the stuff of happy suppers and of imagination. As a kid, I watched on repeat the scene in Field of Dreams where the baseball players disappear into Kevin Costner's cornfield - delighted by what then seemed like sophisticated special effects, and wishing I could take a peak into the other side. When my mom came home with sweet corn from the farmer's market, my dad and I would head out to the bench in our backyard to shuck it. In the fading early evening light we would pull husk from cob, enjoying the fresh, grassy smell and allowing the discarded corn silk to gather in a pile at our feet.
But of course corn, which is indigenous to the Americas and has been cultivated for thousands of years, is a complicated crop. Today, the yellow and white sweet corn I love makes up about 1 percent of total U.S. production (corn grown for animal feed makes up the largest percentage), which means my pastoral childhood associations are only a small part of the story. The rest of corn's narrative is cluttered with government subsidies and high fructose corn syrup; with struggling mid-sized farms and ethanol, with industrial meat production and genetically modified seeds. And yet, while the corn industry has developed a less-than-stellar reputation over the last several decades, fresh cob corn eaten in season serves as a reminder of how deeply connected and indebted we are as a country to this domesticated grass.
Sweet corn typically hits peak season in July and August, and should be purchased when the silk is golden and translucent, and the cobs feel firm and full. Corn requires little more preparation than a quick dip in a pot of boiling water and a slip of salted butter to taste divine. But the sweet, starchy kernels pair well with contrasting flavors, lending themselves to countless other preparations - both on the cob, such as the grilled corn with mayonnaise, cheese and chile, and off, like the sweet and piquant miso corn cakes.
Layers of sweet corn pastry cream alternate with an herb-infused blueberry compote and a buttery shortbread crumble in a summery spin on the classic trifle..
Buttery corn ice cream is topped with a dash of maple syrup.
Caramel sauce gives this unusual dessert a sweet depth.
This bright-tasting relish is one of our favorite uses for summer corn. It's great on fish, with meats, or as an all-purpose condiment.
This chowder recipe was built to showcase a sweet corn variety called Sweetie 82, though any corn will work in this hearty dish.
Skillet-cooked corn bread is a popular vaquero (Mexican cowboy) side dish; jalapeno adds a welcome kick.
This quinoa recipe combines gluten-free quinoa with sauteed eggplant and a light Asian lime vinaigrette.
This smoky, chewy corn can also be slathered with sour cream thinned with a little bit of cream instead of mayonnaise.
The addition of sweet white miso updates a traditional corn cake recipe.
This version of the classic Central American sweet and silky-smooth beverage is based on a recipe from Maria Franco, a Salvadoran cook in Los Angeles.
In this summery cocktail, sweet corn is infused with whiskey.
Leah Koenig is a freelance writer and author of _The Hadassah Everyday Cookbook: Daily Meals for the Contemporary Jewish Kitchen (Rizzoli, 2011)._