One Ingredient, Many Ways: Garlic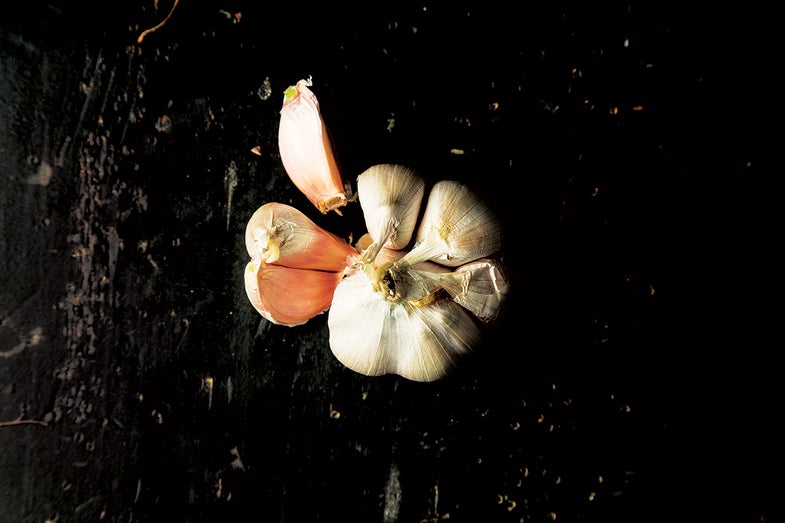 Garlic has an almost mystical quality. Its pungent vapors are said to ward off vampires (and kisses—though I personally find the scent of garlic more alluring than repellent). When used copiously, as in the classic dish of chicken with 40 cloves of garlic, it can turn a simple meal into a bit of edible magic. But at its heart, this allium is earthy and prosaic—whether subtly boosting a dish's flavor or playing the starring role, it can be found in nearly everything.
Growing up, there was just one type of garlic to choose from at the supermarket; today, I'm acquainted with garlic in it's many different forms. First come garlic scapes, the mild-tasting, springy tops of the garlic plant that, until recently, were snipped and discarded as unsalable. Then there is green garlic—grassy-scented stalks that get harvested early on, before the bulbs have a chance to fully form. And finally, there are full garlic heads, fat and peppery in their papery skins.
This time of year feels hopeful, but in New York it's not yet a great time for produce. For now, seasonal cooking is still focused on brightening up last season's storage crops while dreaming of things fresh and green to come. In this case, I roasted several heads of garlic until they were soft and mellow, spread them on crostini, and topped them with sour cream, capers, lemon zest, and soft sweet potatoes. It's a delicious reminder that, soon enough, there will be garlic scapes and all matter of delicate (or sharp) fresh things to eat.
See the recipe for Roasted Garlic and Sweet Potato Crostini »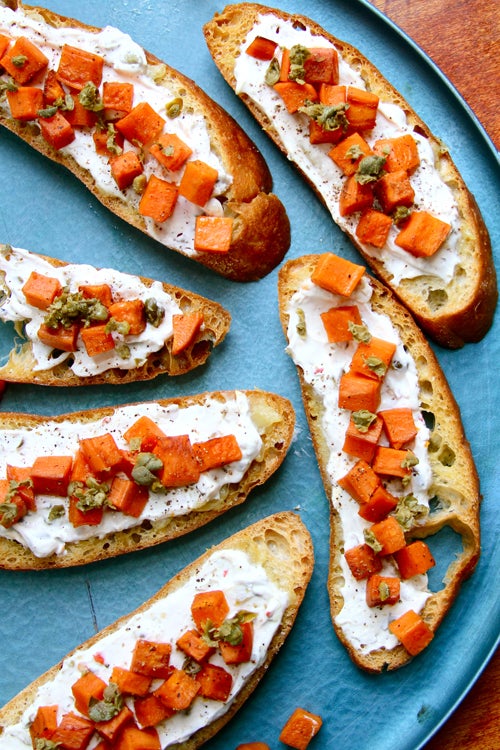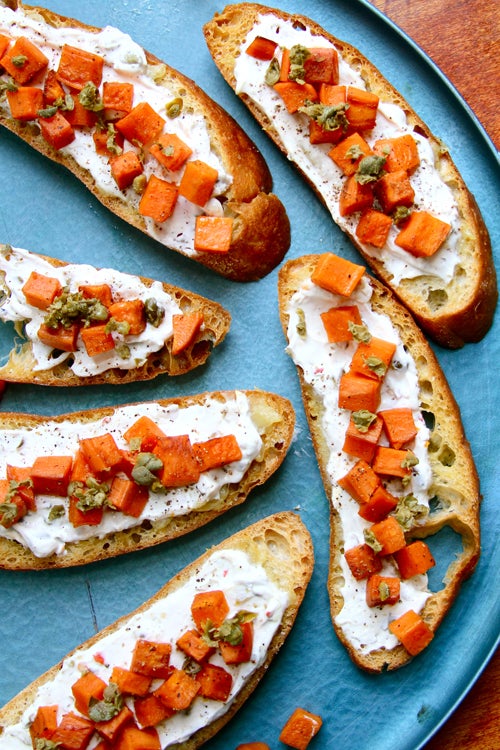 Roasted Garlic and Sweet Potato Crostini
Sweet and savory, crunchy and creamy come together on little toasts, which pair cubes of sweet potato with a flavorful spread featuring lemon zest, capers and sour cream. Get the recipe for Roasted Garlic and Sweet Potato Crostini »
Credit: Helen Rosner
Mains
Chicken with 40 Cloves of Garlic
What could be more classic or more alluring then chicken roasted with 40 whole cloves of melty, unctuous garlic?
Fava Bean Stew with Garlic Thyme and Bay Leaves
Serve slices of country-style bread along side this hearty bean and garlic stew.
Salt Cod with Garlic Cream
An aioli-inspired garlic cream and crispy fried garlic chips top this dish of cod and chanterelles.
Garlic Noodles
6-8 minced cloves swimming in the sauce mean these noodles are brimming with garlicky flavor.
Panfried Sole with Garlic Butter
This recipe yields a generous amount of garlic-scented butter to slather on your piece of sole.
Leg of Lamb with Herb Garlic Crust
Dressed up with herbs and garlic, roasted leg of lamb tastes like a celebration of spring.
Chickpea Veggie Burgers with Garlic
Falafel-inspired burgers are packed with 8 whole cloves of roasted garlic.
Garlic Dumplings with Emmentaler
These Spatzle come redolent with roasted garlic and topped with grated Emmentaler cheese.
Chicken Vesuvio
Chicago's Italian-American restaurants favor this saucy chicken and garlic dish.
Oeufs Cocotte aux Girolles (Coddled Eggs with Chanterelles)
A simple dish of eggs baked in cream uses garlic in three distinct ways.
Sides and Sauces
Garlic Scape Pesto
Garlic scapes and cashews replace the basil and pine nuts in this zesty pesto recipe.
Garlic Custard with Chanterelles and Parsley Sauce
This creamy garlic-flavored custard is threaded through with chopped tomatoes and topped with woodsy mushrooms.
Cardoons with Anchovy Garlic Sauce
Softened cardoons are simply dressed in a pungent mixture of anchovies and garlic.
Ca Nuong (Grilled Eggplant with Garlic and Scallions)
Japanese eggplants are grilled, then topped with chopped garlic and scallions in this savory side.
Conserva of Spring Porcini, Fresh Ricotta and Braised Garlic Scapes
In San Francisco, Chef Michael Tusk makes a canape of fresh ricotta and braised garlic scales served with springy porcini mushrooms.
Broccoli with Garlic and Hot Pepper
This simple Roman side dish amounts to much more than the sum of its parts: broccoli, garlic, red pepper flakes, olive oil and salt.
Garlic Chipotle Mayonnaise
Dip vegetables or fritters in this rich sauce made from mayonnaise, skillet-softened garlic cloves and chipotle in adobo.
Asian Greens with Garlic Sauce
A quick stir fry and a copious amount of garlic is all one needs to make this delicious green side.
Cassava with Garlic and Citrus
This plain boiled cassava comes well dressed with lime juice and chopped garlic.
Pantzaria Me Skordalia (Roasted Beets with Garlic Potato Spread)
This garlic-infused walnut and potato spread makes the perfect side for roasted beets.
Garlic Dill Fava Bean Salad
Flavored with cumin, lemon and garlic paste, fava bean salad is a classic Egyptian dish.
Leah Koenig is a freelance writer and author of The Hadassah Everyday Cookbook: Daily Meals for the Contemporary Jewish Kitchen.