One Ingredient, Many Ways: Lemons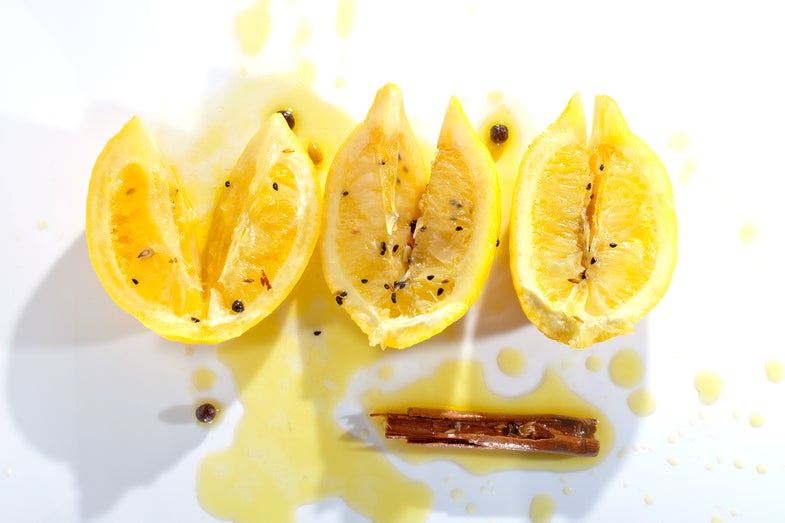 Lemonade may be summer's signature libation, but lemons truly belong to the winter. In this extended season of gray skies and comfort food, there's no better way to enlighten a pan of root vegetables, brighten a simmering pot of lentils, or add a layer of citrusy flavor to roast chicken than with a squeeze of lemon juice or a dusting of finely grated zest. It's the simplest way to invoke the color, light, and warmth that are notoriously absent this time of year—not to mention to spruce up that cocktail sipped indoors while waiting out winter's doldrums.
Craving a touch of sunshine, and seeking inspiration for the bowl of lemons staring at me from their counter-top perch, I called chef Michael Solomonov. The James Beard Award-winner and owner of the modern Israeli restaurant Zahav in Philadelphia, Solomonov has become a de facto lemon expert. After all, as he put it, "lemons are at the heart of Israeli and Middle Eastern cuisine. They have that ultimate balance of the bitter, the sour and the sweet."
Solomonov told me that the chefs at Zahav juice about a case and a half of lemons every day—"two on the weekends." That fresh juice ends up all over Zahav's menu, like in the lemonnana cocktail—a sweet-tart mix of lemon verbena syrup, fresh lemon juice, mint, soda water, and bourbon that riffs on a popular Israeli street drink. He also whisks lemon juice into hummus and stirs it into preserved vegetables and fruits, like the restaurant's pickled kumquats. And he told me that he likes to blanch whole lemons and puree them with sugar and olive oil, making a creamy sauce ideal served alongside fried salt cod.
All that talk of fried foods reminded me of a standout dish of fried cauliflower I ate at Zahav several months back. The restaurant's version dresses up the crisped florets with mint, garlic and tart labneh. But a little research turned up a traditional Sephardic Jewish dish, culupidia frita con limon, or fried cauliflower bathed in lemon juice. Bingo. Zester in hand, I stirred wisps of lemon peel into a flour and egg batter, fried the coated cauliflower in oil, then showered each bite with fresh lemon juice. Crunchy, tender, and brimming with fresh, tangy flavor, I expect this dish will be on heavy rotation in my kitchen until spring.
See the recipe for Lemony Fried Cauliflower »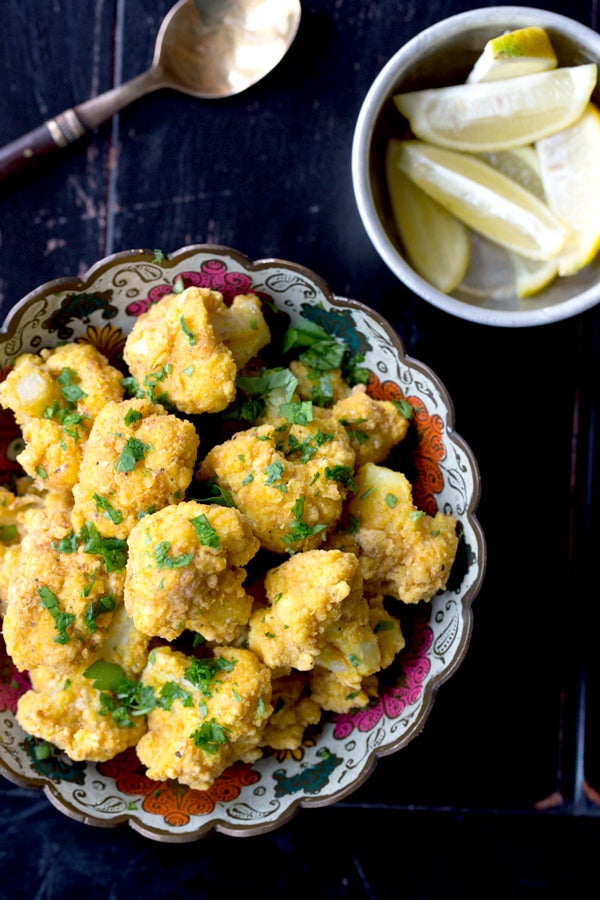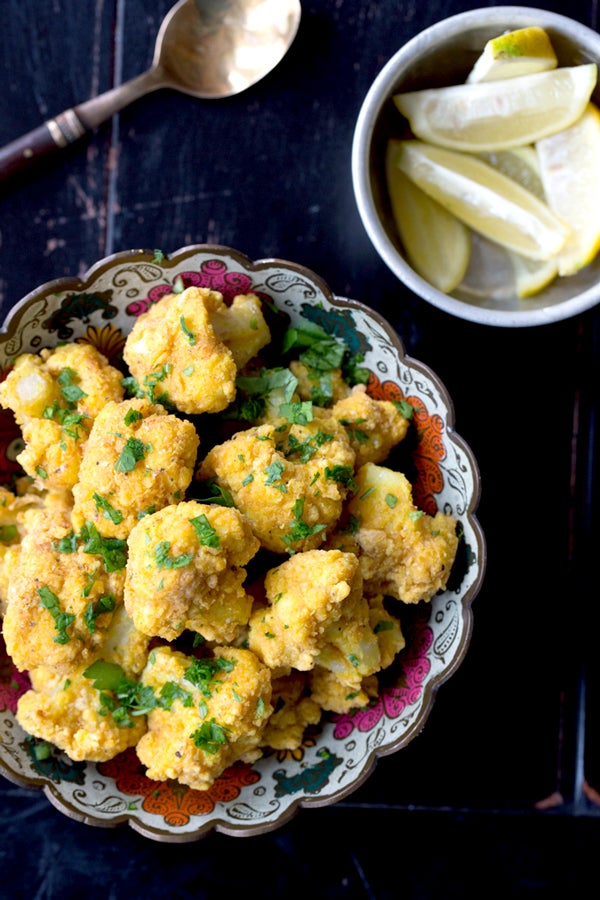 In this take on a traditional Sephardic Jewish dish, culupidia frita con limón, cauliflower are coated in a flour and egg batter, fried, and then bathed in lemon juice. As a side or a snack, it's crunchy, tender, and brimming with fresh, tangy flavor. Get the recipe for Lemony Fried Cauliflower »
Sweet Lemon Recipes
Lemon Bars
Sweet, tart, creamy and crunchy, these classic lemon bars have it all.
Corsican Lemon Mousse
This airy mousse is brimming with lemony flavor.
The Best Damn Meyer Lemon Cake
Moist and intensely lemony, this loaf cake will prompt second (and even third) slices.
Lemon Icebox Pie
This pie's shortbread cookie and agave syrup crust makes the perfect base for a cold and creamy filling.
Melon Sorbet with Lemon Granita
Serve a scoop of this cantaloupe sorbet on top of a layer of granita.
Lemon Marmalade Cranberry Sauce
Meyer lemon marmalade and finely grated lemon zest flavor this tart, red sauce.
Classic Lemon Poppyseed Muffin
Golden yellow and studded with poppy seeds, these muffins are the quintessential breakfast treat.
Lemon Layer Cake
Lemon curd frosting gets layered in between this lemon zest-infused cake.
Lemon Curd Vanilla Swirl Ice Cream with Coconut Meringue
This meringue topped lemon curd ice cream is like a frozen riff on a pavlova.
Savory Lemon Recipes
Lemon Confit
Add these silky, tart preserved lemons to your favorite dishes.
Grilled Chicken with Lemon Leaves
If you live anywhere near a lemon tree, gather the leaves for this unusual chicken dish.
Lemon Risotto
This classic Italian rice dish gets dressed up with lemon.
Roast Chicken with Saffron and Lemons
Richly scented with citrus and spice, this roast chicken dish is anything but ordinary.
Lemon Herb Roasted Vegetables
Wintry root vegetables are enlivened by chunks of whole lemon.
Ladolemono (Lemon and Olive Oil Sauce)
Serve this Greek lemon sauce on top of grilled chicken or fish.
Avgolemono (Greek Lemon Chicken Soup)
This classic Greek soup relies on lemons for it's mouth puckering flavor.
Artichoke and Fava Stew with Lemon Sauce
This vegetarian stew gets its flavor from a tart lemon sauce that gets stirred in near the end of cooking.
Lemon Thyme Lamb Chops
Grilled lamb chops get topped with olive oil, lemon juice, and fresh thyme leaves.
Kale Salad with Lemon and Currants
This simple salad softens earthy kale with lemon juice and olive oil.
Salmon Glazed with Rosemary and Lemon-Infused Honey
Grilled salmon steaks are dressed up in a sauce of lemon, rosemary and honey.
Lemon Drink Recipes
Vintners Vodka
Vodka, lemon juice, egg white, sugar, and St. Germain combine in this refreshing cocktail.
Retox Cocktail
This decidedly alcoholic riff on the Master Cleanse diet includes lemon juice, maple syrup, and cayenne. And bourbon.
Fruit Punch
Orange and lemon juice, sugar, and citric acid pair in this Civil War-era drink.
Lemon Lavender Fizz
Gin, lavender simple syrup, and lemon juice pair in this refreshing spring cocktail.