One Ingredient, Many Ways: Peas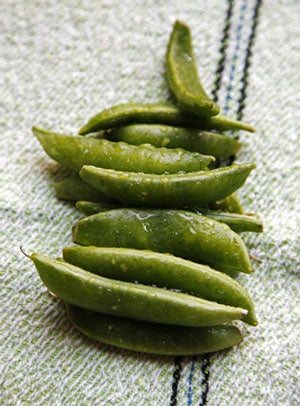 My husband and I have a simple disagreement about green peas: I love them, he does not. I eagerly await their arrival at the farmers' market, and arriving home feel immediately compelled to liberate the little green marbles from their pods and mix them with butter, mint and grated parmesan — or to braise them until wrinkled and tender in savory broth, or to stir them into curry. He could take them or leave them. Fortunately for me and my green pea devotion, relationships are built on compromise.
Nearly all of the country's pea crop ends up frozen or in cans, so there is something particularly special about stumbling across the short-seasoned fresh variety in midsummer. A cousin to other green pods like sugar snap and snow peas (but unrelated, except in name, to chickpeas or black eyed peas), green peas add a touch of sweetness and starch to dishes both simple and complex. Maybe that's why this Middle Eastern native is now a staple of cuisines across the world, from Italy to India.
STARTERS
Fresh Pea Soup
Four pounds of freshly shelled peas lend sweetness to a simple, beautifully dark green soup.
Peas with Orange and Mint
Fresh orange juice and mint are classic accompaniments for peas, balancing their mellow flavor.
German Split Pea Soup
A hint of flour makes this hearty soup rich and creamy.
SIDES
Venetian Style Rice and Peas
Rice is cooked in a homemade pea broth for double the summery flavor.
Fresh Peas with Lettuce and Green Garlic
This green-on-green on green sautee makes a beautiful and refreshing summer side dish.
Fresh Peas with Prosciutto
You would hard-pressed to find a dish more versatile or more delightful than this one.
Spring Peas and Pearl Onions
Cooked pearl onions and peas are decadently dressed in butter and cream.
Braised Artichokes with Carrots, Peas, and Fava Beans
This vegetable-centric dish combines several different market finds to delicious effect.
Dry Cooked Cabbage with Tofu and Peas
Peas add brightness to an Indian stir-fry, heavily spiced with mustard seeds, coriander and turmeric,
Ragout of Peas and Morels
Earthy morels and springy peas combine to make a hearty side dish.
MAINS
Roasted Squab and Braised Peas
Pan-roasted squab pairs perfectly with peas braised in broth and red wine.
Curry with Peas and Fresh Cheese
A bright Indian curry is filled with spices, peas, and fresh paneer cheese.
Pea Shoots with Fermented Bean Curd
Pea shoots are mix with savory fermented bean curd and garlic.
Truffled Gnocchi with Peas and Chanterelles
Hearty pasta combine with some of summer's best vegetable and mushroom flavors.
Ground Lamb and Peas in Yogurt
A Northern Indian classic flavored with spices that have been fried in clarified butter.
Sauteed Cod with Pea Cream
Fresh or frozen peas mixed with half and half serve as the creamy green base for delicate sauteed cod.