One Ingredient, Many Ways: Swiss Chard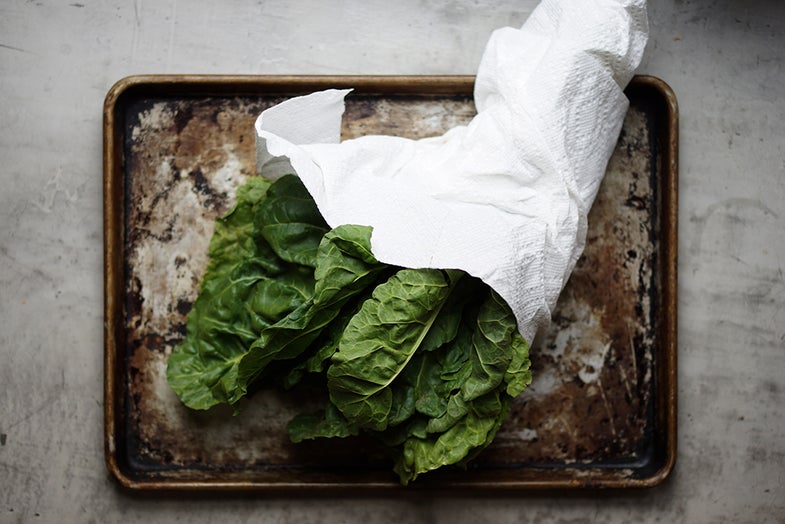 Swiss chard is the Rodney Dangerfield of greens—it don't get no respect. Or at least, not the kind of respect it deserves. With its broad, crunchy stalks and earthy, slightly saline taste, chard is more aggressively flavored than its more popular leafy green counterparts like spinach (to which it is related) and kale (to which it is not). But for those who like food that pushes boundaries, cooking with chard can be hugely rewarding.
Native to the Mediterranean (not Switzerland, as its name would suggest), chard makes the perfect filling for phyllo dough pies like hortopita, and it pairs beautifully with pine nuts, artichokes, or lentils. The stems, a vibrant rainbow of reds, pinks, whites, and yellows, are hard and fibrous, but become tender and delicious when grilled or pickled. Its shiny leaves are at home chopped raw in a salad, but can also hold up against long simmers and braises without falling apart or dissolving into mush. They're wonderful in a soup or simply sauteed, but my favorite way to serve this green is to combine softened chard with onions, mushrooms, sweet corn, and chilies in adobo. The result: hearty, smoky, vegetarian Swiss chard tacos that are hard to stop eating—and surprisingly easy to respect.
See the recipe for Swiss Chard and Chipotle Tacos »
Credit: Helen Rosner
SIDES
Garlicky Greens
Chard gets mixed with mustard greens, kale, and a whole head of chopped garlic in this savory side.
Greens and Artichoke Stew
This brothy Middle Eastern stew pairs chard, curly endive, and artichoke hearts.
Versatile Swiss Chard
Chef Amanda Cohen proves how versatile chard is by showing how to grill it, roast it and puree it in an installment of Recipe Comix.
Food 52: Grilled Swiss Chard Stems with Anchovy Vinaigrette
Don't throw away those lovely chard stems! Grill them and toss them in a briny anchovy vinaigrette.
Bon Appetit: Pickled Swiss Chard Stems
Soften chard stems by pickling them in rice vinegar, sugar, and spices.
MAINS
Linguine with Walnuts and Swiss Chard
Add earthy depth to a simple pasta dish by tossing in wilted chard.
After Farmers Market Quiche
Turn the chard and other vegetables from a farmers market haul into a cheesy quiche.
Corsican Chard Cannelloni
This pasta dish combines chard and ricotta in a zesty tomato sauce.
Lentils with Swiss Chard and Khlea
Khlea, a preserved lamb or beef, flavors this lentil and chard dish.
Hortopita (Swiss Chard and Feta Pie)
The traditional Greek phyllo pie filled with greens, herbs and feta makes a delicious vegetarian main.
Food 52: Chinese Beef and Chard Buns
A mixture of chard and seasoned ground beef hide inside these pan-fried dumplings.
Leah Koenig is a freelance writer and author of The Hadassah Everyday Cookbook: Daily Meals for the Contemporary Jewish Kitchen.