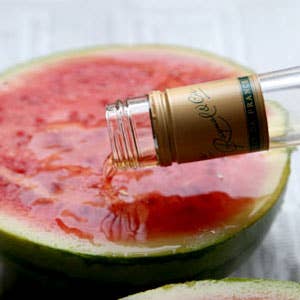 Culture
Plays Well with Others
The versatile watermelon lends itself to a surprising number of delicious pairings and prepared dishes, both fresh and cooked.
An unadorned slice of watermelon may rate as a perfect refreshment the world over, but this versatile melon also lends itself to a surprising number of delicious pairings and prepared dishes, both fresh and cooked.
Traditional Thai and Indian culinary repertoires, for example, include a range of curries that unite cooked watermelon with pungent spices. In Mexico, it's common to find slices sprinkled with a tangy lime-chile salt called tajin, which boosts the intensity of the fruit's sweetness.
In Italy and, increasingly, the United States, chefs drizzle aged balsamic vinegar over watermelon and serve it as a simple first course.
Others wrap chunks of the fruit in thin slices of prosciutto or country ham, in another take on the salty-sweet juxtaposition.
Pickled watermelon rinds emerged in various cuisines in eastern Europe.
Centuries later, Mennonite emigres from Ukraine, among others, brought pickled rinds to the States, along with another favorite: watermelon syrup; boiled down with a bit of sugar, the melon's juice becomes thick and lustrous, perfect for drizzling over pancakes or ice cream.
Oil-rich watermelon seeds are prized in many parts of the world: Nigerians ferment them to make a seasoning called ogiri, and throughout Asia and the Middle East they're hulled, toasted, and eaten as a snack. In India, as in parts of Africa, the seeds are dried and then ground into a flour for baking.
Watermelon is also pureed and strained to make drinks, like Mexico's popular agua fresca de sandia, a cooling combination of watermelon, lime juice, sugar, and water.
In the southern African nation of Namibia and in parts of the U.S., watermelon juice is fermented for making watermelon wine, and watermelon beer has become a cult favorite of some American craft brewers.
And if you've ever been to a fraternity party at a U.S. college or university, you've probably witnessed the trick of poking holes into watermelon's flesh and filling it with booze such as vodka or rum; as it happens, the tradition is a venerable one: in 1900, says SAVEUR contributor David Wondrich, a recipe for whole watermelon steeped in brandy appeared in the book Cocktail Boothby's American Bartender by William "Cocktail" Booth.