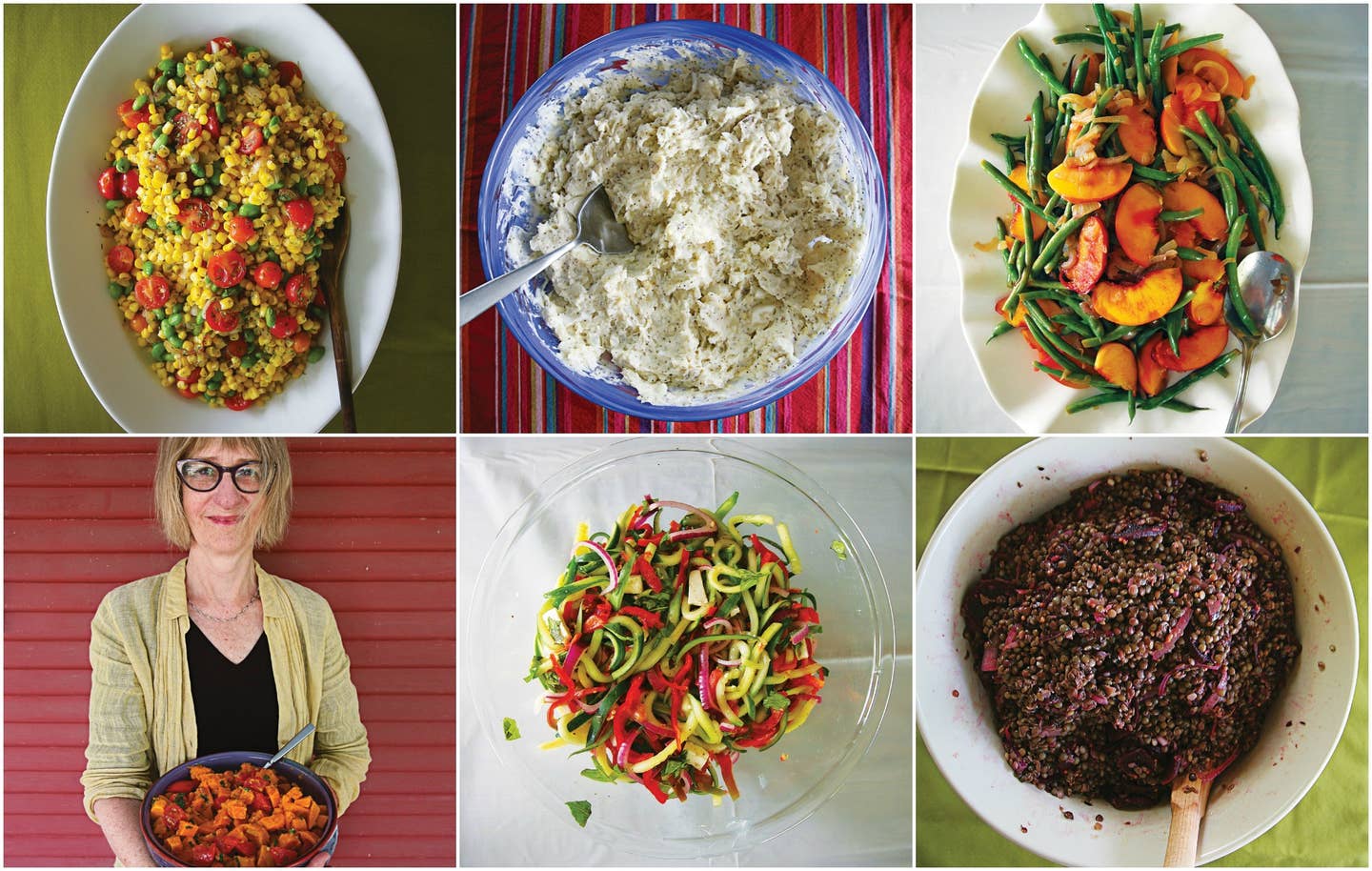 Culture
Salad Social
Lawrence is the potluckiest town in America.
It's Friday night, and I've got a date with three pounds of lentils. They're on the stove, gobbling up water and roiling like a stormy sea. Every 60 seconds I fish a couple out, desperate to capture them on the cusp of tender and firm. I always make way too much food. But that's what you're supposed to do for a potluck, right?
I'm preparing for a BYO shindig tomorrow at William Burroughs' old house in Lawrence, Kansas. (Yes, that William Burroughs; the eccentric Beat writer chose to wind down his life in this progressive town.) The Burroughs house is today the private residence of Tom King, a chef, gardener, and writer, who is hosting the First Annual Summertime Salad Social for a group of friends (roughly the same group invited to two soup potlucks before this). There will be 24 salads in attendance, accompanied by the people who made them.
Lawrence, population 89,000, might be the potluckiest town in America. At least the majority of the fetes I've attended have been crowdsourced. Since moving to the area in the '90s, I've hauled dishes far and wide, happily without any spillage.
In the heartland, people have been pitching in to party since the early days, when community gatherings were held in churches and simply called a "hotdish," after the casseroles that dominated the spread. Though the nature of the events may have changed, the spirit remains the same. When it comes to potlucks, each contribution seems to reveal something personal about the cook, a bit of inner psyche that might otherwise stay hidden. Maybe that's why people either love or hate them. They're public displays of intimacy, a communal meal where your food will be eaten and discussed by friends and strangers alike.
The next day at the Burroughs house, with my humongous bowl in hand, I arrive early to watch the show unfold. In comes an artfully displayed niçoise, whose jovial guardian has opted for a casual pretossed presentation. There's a potato salad, dubbed "perfect" by its maker with neither conceit nor sarcasm. Over there is a fuchsia bowl of clementines, fennel, and greens, the colors swirling like the tattoos on the woman who's brought it. There's a gutsy guy who hit the farmers' market that morning and winged the spicy cucumber-slaw number. One couple even brings gazpacho—slyly named "liquid salad" to qualify. Maverick.
While I serve myself, I do some math. If I divide the table into two rounds of 12 salads and take three bites from each, that's 72 forkfuls. At 20 seconds per, I'll have 24 minutes of eating, not including the time it takes to reload. And with one dish better than the next, everything demands revisiting.
Soon I'm discussing crunchy green beans and ripe, juicy peaches with a good friend. She's tweaked a magazine recipe to call her own, doctoring it with fresh oregano, and I'm sure it's better for it. She likes my lentil salad in return, thank goodness. And just when the guests seem to be settling down with their plates, in walks a chilled wheat berry pilaf spiked with jalapeños. Better make room.