Lunch With the Samburu Warriors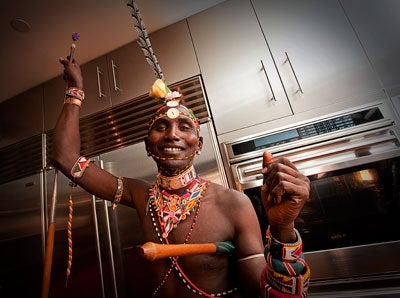 We play host to all sorts of visitors here at SAVEUR headquarters, but yesterday we hosted a particularly special group: Four warriors from the Samburu tribe of Northern Kenya stopped in for lunch. They're visiting New York City with the founders of The Thorn Tree Project, an organization that funds primary schools for the children of nomadic tribes. These warriors, whose daily diet when they're at home consists of daily "shakes" made from fresh cow's milk mixed with fresh cow's blood, have been expanding their culinary horizons since arriving in NYC, sampling hot dogs on Coney Island just the other day (they weren't fans) and vegan red pepper tarts prepared by chef Matteo Silverman of 4 Course Vegan here in the SAVEUR kitchen (a big hit).
After a rousing performance of chanting, dancing, and jumping, the warriors sat down with us and talked about their home, the wonders of New York City (for most of them, this was the first time they've left Kenya), and the reason they're here: the 9th Annual African Bazaar & Silent Auction hosted by the Thorn Tree Project at Donna Karan's Urban Zen event space. This Thursday, May 5, come support the children of the Samburu tribe with food, drink, and an encore performance of the warriors' traditional tribal dances. If you can't make it to the event, you can support the work of the Thorn Tree Project with a donation to Clodagh Cares.
Take a look at the warriors' visit to the SAVEUR office in our gallery »
See a video of the warriors' dance after lunch in the test kitchen: