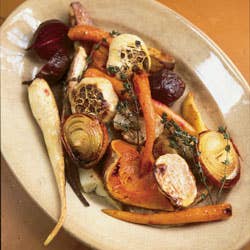 The season for stone fruit may be coming to an end, but there's no reason to mourn. Celebrating and eating seasonal produce are powerful ways to connect to the land. What's more, autumnal fruits and vegetables—both earthy and delicious—await.
In "The Time is Ripe," Warren Schultz takes us back to the upstate New York farm where he grew up and passed many chilly mornings harvesting tomatoes and peppers. His memories remind us of the work and love that often go into the food we eat.
Though nowadays it's easy to find all kinds of produce regardless of the time of year, honoring nature's time line makes for a far richer eating experience. Schultz challenges us to "take back our food," and we think there's no better time to do so.
So pull on a sweater and trek to a nearby apple orchard. Gather bags of root vegetables and slide them into the oven as the sky turns black. Do right by your belly—and Mother Nature—with our Autumn Harvest Feast: