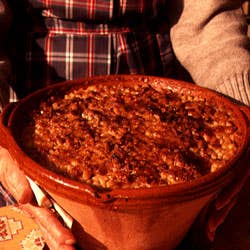 Culture
Searching For The Secrets Of Cassoulet
A traveler finds—and feasts on—the real thing in the heart of southwestern France.
When I said good-bye to America many years ago and ran off with my new wife to live and write in Paris, I had never tasted cassoulet—the savory ragout of meats and white beans that is probably the emblematic dish of southwestern France's Languedoc region. In Paris, though, we were invited to lunch one Sunday by a large French family we had come to know well—and our hosts assured us that we were in for a treat because Alain, a doctor who had married into the family, was preparing his version of this hearty classic concoction.
A longtime resident of Paris, Alain had no roots in the Languedoc. He had pieced together his recipe over the years, from cookbooks and from his own kitchen creativity. Yet when the steaming casserole arrived on the table, brimming with flavorful white beans, tender duck confit, and garlicky sausages, it was a masterpiece—and for me the onset of a passion for cassoulet that has yet to be sated.
One winter day not long ago, I decided to journey to the Languedoc and discover for myself the secrets of the region's greatest gift to French gastronomy. And with all due respect to Alain, it was there, in a nondescript village in southernmost France, that I discovered how good, and how satisfying, great cassoulet can be.
Cassoulet is typical of the hearty, rustic cuisine of the Languedoc's vast plain; the local poultry and sausages (along with lamb, mutton, and Mediterranean fish) are found in numerous local dishes, accompanied by plenty of garlic and tomato. The specialty is historically associated with three ancient cities—Toulouse, Castelnaudary, and Carcassonne—that lie along the tree-lined Canal du Midi, part of a longer waterway linking the Atlantic and the Mediterranean. Traditionally, each of these towns has its own version of the dish, though it is generally acknowledged that cassoulet had its beginnings in Castelnaudary. Convention has it that the cassoulet of Castelnaudary is based largely on pork and pork rind, sausage, and (sometimes) goose; the Carcassonne variety contains leg of mutton and (occasionally) partridge; and the cassoulet of Toulouse includes fresh lard, mutton, local Toulouse sausage, and duck or goose. Prosper Montagne, a celebrated turn-of-the-century French chef, wrote that cassoulet was the "God" of Occitan—southern French—cuisine, with three incarnations: "God the Father, which is the cassoulet of Castelnaudary; God the Son, which is that of Carcassonne; and the Holy Spirit, which is that of Toulouse." But not all commentators appreciated all three regional variations. In his Histoire comique, Anatole France spoke with great warmth of a restaurant in Paris where a Castelnaudary-style cassoulet had been simmering in the same pot for 20 years—but, he added, this "must not be confused with cassoulet in the style of Carcassonne, a simple leg of mutton with beans".
In my own travels along the cassoulet trail, I've found that the differences between the three varieties seem to have blurred over the years. Although the chefs of Carcassonne often add a small piece of tender lamb as an apparent bow to tradition, I have never found lamb or mutton in a cassoulet served to me in Toulouse—and in Castelnaudary, where a robed order of cassoulet guardians has sprung up to jealously protect the reputation of the city's most famous dish, it is considered perfectly proper to add sausage from Toulouse.
"There are three secrets to a good cassoulet," Georgette Diomard, owner of a small food shop in Villefranche-de-Lauragais, a town midway between Toulouse and Castelnaudary, told me. Diomard supplies essential ingredients, as well as lashings of advice, to Villefranche's cassoulet aficionados. "First, the beans. They must be well cooked but not so much that they get mushy. Second, one must use a sufficient quantity of pork rind when making the bouillon, which renders it thick and smooth." Finally, Diomard told me, the cassoulet must be baked in the oven for several hours in a cassole, the earthenware bowl, resembling a squashed flowerpot, from which the dish got its name.
"Our sole purpose is to defend the glory and the quality of our cassoulet," Francis Charron, Grand Maitre of the Grande Confrerie [brotherhood] du Cassoulet de Castelnaudary, told me when I met him one afternoon in that city. And although the organization "refuses to enter into polemics" about the different regional versions of cassoulet, he added, it is quite strict about the qualities of a Castelnaudary cassoulet. So, while restaurant owners, caterers, and even local cassoulet canners can join the brotherhood, only those who have no commercial interest in the product can aspire to be knights, the order's highest rank. "The knights are those who love cassoulet and who eat it," Charron explained. Every so often, the knights will make a surprise visit to an establishment. "For each part of the cassoulet we have our criteria, and we give an overall grade. If there's a deficiency, we will say so. Maybe it has been cooked too long, not cooked enough, it's too fatty, not fatty enough; perhaps the sausage is too big or too small." I asked Charron why he is so passionate about cassoulet. "For one thing," he replied, "cassoulet is an expression of our local civilization—a meal whose character is so typical of this region. And then, as I hope you will soon see, it is an exceptionally convivial dish."
Indeed, that very evening I was the guest of honor at a dinner attended by Charron and a large contingent of the Great Brotherhood's members at a restaurant called Hostellerie Étienne, in the village of Labastide-d'Anjou, about five miles west of Castelnaudary. Many of the brothers—and a few sisters—had already arrived, dressed in flowing brown robes with yellow trim and sporting large, cassole-shaped hats. In the kitchen I could see the proprietor, a short man with white hair and glasses.
"That's Étienne Rousselot," one of the brothers told me. "He's the champion." Had I really arrived at cassoulet nirvana? "He's quite good," Charron said, less committally. But he soon dropped his reserve when the steaming cassoles were set before us and their ambrosial contents ladled onto our plates. "Super bon, au sommet!" Charron enthused, his eyes gleaming. And as I shoveled forkfuls of sumptuous, perfectly cooked beans, crispy duck, and spicy sausage into my mouth, I was perfectly happy to defer to the Grand Maitre's judgment.
Charron offered me seconds, then thirds. I was in no mood to refuse. "Lots of beans, please," I requested, as he cut into the cassoulet's lovely brown crust and scooped out huge helpings before my greedy eyes. Meanwhile, the cassoulet club had begun singing in Occitan, the Languedoc's native tongue, and debating which variety of bean is most likely to make you windy. We'd been washing down the cassoulet with bottles of cotes-de-la-malepere—one of several Languedocien wines (others include corbieres, minervois, and fitou) that stand up perfectly to the dish's garlicky earthiness. Then Rousselot came over with a bottle of armagnac. The last I remember, he and I had our arms around each other and were drinking toasts to Franco-American friendship.
Before I left Hostellerie Étienne that night, proprietor Rousselot invited me to come by for breakfast the next morning. When I arrived, he laid out two plates of foie gras and country ham and poured two glasses of a 1977 cotes-du-roussillon that he had brought up from his wine cellar. Rousselot told me he'd come to this region from Toulouse and opened his restaurant in Labastide-d'Anjou in 1956. When he first came to town, he didn't know how to make cassoulet, but he did know a waitress at a Castelnaudary hotel that was once famous for its cassoulet, and little by little—plying her with glasses of champagne, he claims—he got the recipe from her. "But it took me another ten years to perfect my own version," Rousselot added. Could he give me some tips? I asked. "It's all in the little things, the simple things," he answered. "For example, I leave the cassole in the oven for seven hours, at a low temperature. Also, I let a nice crust form on the top, and then break it and let it re-form at least four times."
As Rousselot took another sip of wine, I asked the elderly chef when he planned to retire. "Never," he said. "My dream is to die with an oven full of cassoulet."