Summer's Sweetest Gifts
Nothing evokes the summer season as vividly as perfectly ripe raspberries, cherries, and peaches at the height of flavor.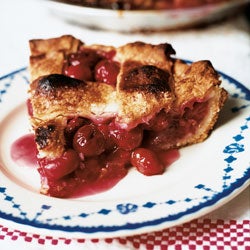 Like no other season, summer signifies the time of year when a trip to the market reveals a luscious panorama of sweet, juicy fruit: bright red cherry globes, raspberries in hues from pale gold to deep burgundy, pink-tinged peaches with their velvety fuzz. They're ripe for only a brief time, so there's no better time to enjoy these delectable delights.
CHERRIES—Perhaps the ultimate fruit of the American summer, cherries enchant with their vibrant flavor and meaty texture. Both sweet and sour cherries are prime for picking from mid-May to August, with June and July being the peak of the growing season. So fond are we of these tasty little orbs that one July we sent Kelly Alexander to the Sour Cherry Capital of the World—that would be Traverse City, Michigan—for the National Cherry Festival to report on The Triumph of Cherries.
RASPBERRIES—Soft and perfumed, raspberries offer a delicate flavor punctuated with small bursts of tartness. Reaching perfect ripeness from July to September, they are a must-have on any summer menu. And as we found in Eric Goodman's article, The Fruits of Summer, raspberries are not only perfect for light desserts, they make an exceptional jam, allowing you to enjoy this flavor of summer all year long.
PEACHES—For us, few things are as special as biting into the soft, downy skin of a perfectly ripe peach, savoring the flesh as the juice drips everywhere. Although we love the tangy flavor of yellow peaches, for a truly sublime experience we turn to the floral sweetness of rarer White Peaches. As with cherries and raspberries, they only make their presence known for a few short months, so seek them out now. Before you know it, they—like summer itself—will be gone.