Sweet Heat
These peppers are a cornerstone of Basilicata's rustic, satisfying cuisine.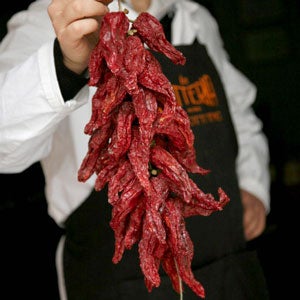 Peppers of all kinds thrive in Basilicata's sunny, semi-arid terrain. Ever since capsicums started arriving in Italy from the New World in the 16th century, cooks in the region have used them in creative ways to lend variety and spice to their cuisine. There are slender diavolicchio (little devil) chiles, prized for their intense heat, and strawberry-shaped, spicy cerasello varieties, but the region's most celebrated pepper is the bright red, thin-fleshed peperone di Senise (pictured), which hails from an agricultural region between the Agri and Sinni rivers, near the city of Senise. In 1996, these peppers were granted I.G.P. (Identificazione Geografica Protetta) status, which narrowly defines the geographical region in which peppers sold under that name can grow and also the means by which those peppers may be cultivated and harvested.
Peperoni di Senise are a cornerstone of Basilicata's rustic, satisfying cuisine. Fresh, they're often sliced and added to sauces, stuffed with meat or local wheat berries, or grilled and preserved in oil. More often, the peppers are hung on long ropes and left to dry in the sun, which further concentrates their taste. Called peperoni secchi, these dried peppers lend sweet, smoky notes to soups, potato dishes, and frittatas. Cooks also pound the peperoni secchi in a mortar to extract their seeds, which are used as a spice. The dried peppers can also be pulverized into a sweet, paprika-like powder that's known locally as zafarano (saffron). Although zafarano is added to breads, soups, grilled meats, and vegetable dishes, it is primarily used as a seasoning and preservative for the region's famed pork sausages and hams. In one of its most delicious incarnations, the dried pepper is fried in olive oil to make peperoni cruschi, a brittle, salty, flavorful ingredient that's tossed with pasta and bread crumbs to make the region's signature dish. On their own, peperoni cruschi are Basilicata's most addictive bar snacks, perfect alongside a glass of earthy aglianico wine.