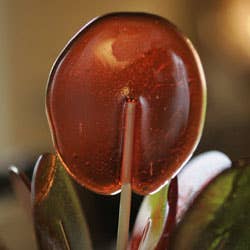 Culture
Sweet Texas Home
At my mother's house, making candies from scratch is the most hallowed of Christmastime traditions.
Two days before Christmas, I am sitting with my mother, Sue Raye, at the round oak table that dominates the kitchen of her one-story house, just off the central square in Mason, a county seat of 2,000 people in the Texas Hill Country west of Austin. We're flipping through tattered candy recipes taped to index cards. Outside, a thick fog has traveled across the lavender fields south of town and rolled right up to the panes of the kitchen window.
The two of us are spending the day making candies, just as my mother has done almost every year since my family moved to Austin from Ohio in 1978, when I was a year old. Mom gets up from the table, walks to the stove, and leans over a pot containing chocolate chips, peanut butter, and paraffin wax; these ingredients will be melted down and layered atop shredded coconut and sweetened condensed milk to be made into coconut candy bars. Next to her at the stove, I peer into another pot, which is filled with bubbling toffee, watching the mercury rise slowly on an old glass Accu-Rite candy thermometer. I wait patiently for the concoction to reach 310 degrees, sugar's hard-crack stage (see Cooking Sugar), and then I pour the molten toffee in thick streams onto a jelly roll pan. Next, I top it with semisweet chocolate chips, which melt instantly from the heat of the candy underneath.
In the meantime, Mom has moved her coconut candy bars to the garage to let them cool, and I grab a fistful of chopped Texas pecans and rain them down over the toffee. As we work, Lyle Lovett croons "Christmas Morning" from the clock radio on the counter.
I've been crazy about making candy since I was a kid. There's something about the over-the-top indulgence of it all that appeals to me on a purely emotional level. My first memories of homemade candy are from the 1980s, before my parents divorced, when Mom used to throw huge holiday open houses for my father's colleagues at the Austin American-Statesman, where he was the circulation manager. In the week leading up to those parties, my mother worked like a hound in the kitchen, making sweets for nearly a hundred guests: fudgy brownies, layer cakes, snickerdoodles, sugar cookies, and ice cream that she'd serve by the scoop in pastel-colored cupcake papers. I observed from the kitchen table, transfixed, as she stirred enormous bowls of nuts and crunchy Rice Krispies into melted white chocolate for her white chocolate crispies and mixed melted semisweet chocolate with miniature pink and green marshmallows, molded the mixture into logs, and rolled them in graham cracker crumbs to make what she called stained-glass-window candies.
When I was nine years old, my grandmother gave my family the Candy Cookbook by Mildred Brand. I studied it in bed each night, poring over the color photographs and descriptions of exotic-looking sweets I'd never tasted: orientals (airy chocolate-covered candies made with egg whites and glycerine), apple-walnut jellies, sea foam (a creamy, divinity-like candy), date chews, pineapple fudge, cream nut caramels, and on and on. When I got to the page that depicted thick, chocolatey peppermint patties stacked artfully on a Depression-glass dish, I knew instantly that these were candies I had to make.
A few days later, with the ingredients laid out before me and Mom hovering watchfully nearby, I haltingly read the recipe aloud, stopping short after the line "Cook to 236 degrees. Pour out onto a slab". I wasn't sure what a "slab" was; I turned to my mother. Smiling, she walked into the living room and removed the television from the small wooden table it rested on. The tabletop was a dust-covered tablet of brown marble I'd never noticed before. Mom removed the slab, lugged it into the kitchen, washed it with soapy water, and declared it fit for use. She walked me through the rest of the recipe, watching as I poured hot sugar syrup onto the marble, working it into long, milky-white ribbons of fondant as it cooled, kneading it like bread dough to blend in green food coloring and peppermint oil, and then forming the candy into disks, which I dipped in melted chocolate. When all was finished, I tasted the results. The peppermint patties were plenty sweet, but the chocolate covering had never quite set and the flavors never quite melded. Those flaws didn't prevent my mother from proudly taking the candies to work with her the next morning.
It's just past noon in Mason, and there's more candy to be made. Mom stands in a corner of the kitchen measuring out mounds of cocoa for her prized hot fudge sauce. The recipe, which came with a gas bill in 1974, is a closely guarded secret. I've asked her for it a few times, but she always laughs and says the same thing, "You'll just have to find it in my recipe file when I'm gone." It's become a running joke between us, and it doesn't look as if I'll get her to spill the beans today. In any case, I'm distracted by other matters, rummaging through the bags I packed last night before driving out from Austin. My fears are confirmed: I've forgotten the sticks I'll need for the lime and cherry lollipops we're going to make. My mother quickly gets on the phone, enlisting outside help. Suzanne Bjork, a friend who runs Hinckley's Country Store, suggests calling a woman at Mason County Meats who makes candy on the side. Sure enough, she has a spare bag of lollipop sticks. Mom sets off on foot to pick them up.
By seven o'clock that evening, the candy making is nearly done. Most of the treats we've made get set aside for Christmas Day, but that still leaves a veritable mountain of desserts for the impromptu dinner of roast chicken that I've decided to make tonight for Mom and a few of her friends. After the dinner dishes have been cleared away, everyone retires to the living room, where serving trays on a long mahogany sideboard display a kaleiodoscopic array of sweets, including Mom's stained-glass windows, the lollipops, the sugar cookies, and my peppermint patties, which I've finally mastered. Still in my apron, I grab a coconut candy bar, collapse into a chair, and take in the cozy scene. I guess you could say that Mom and I have finally gotten our just desserts.