The Art of Yusho
When we decided to include Chicago's excellent yakitori-inspired restaurant Yusho in the 2013 SAVEUR 100, we knew there was only one choice for the story's art: We_had to use one of the beautiful watercolor comics that artist Sarah Becan creates for the restaurants e-mail newsletter, which capture the restaurant's spirit--not to mention paint a tantalizing portrait of the deliciousness of chef Matthias Merges's food. As a Sav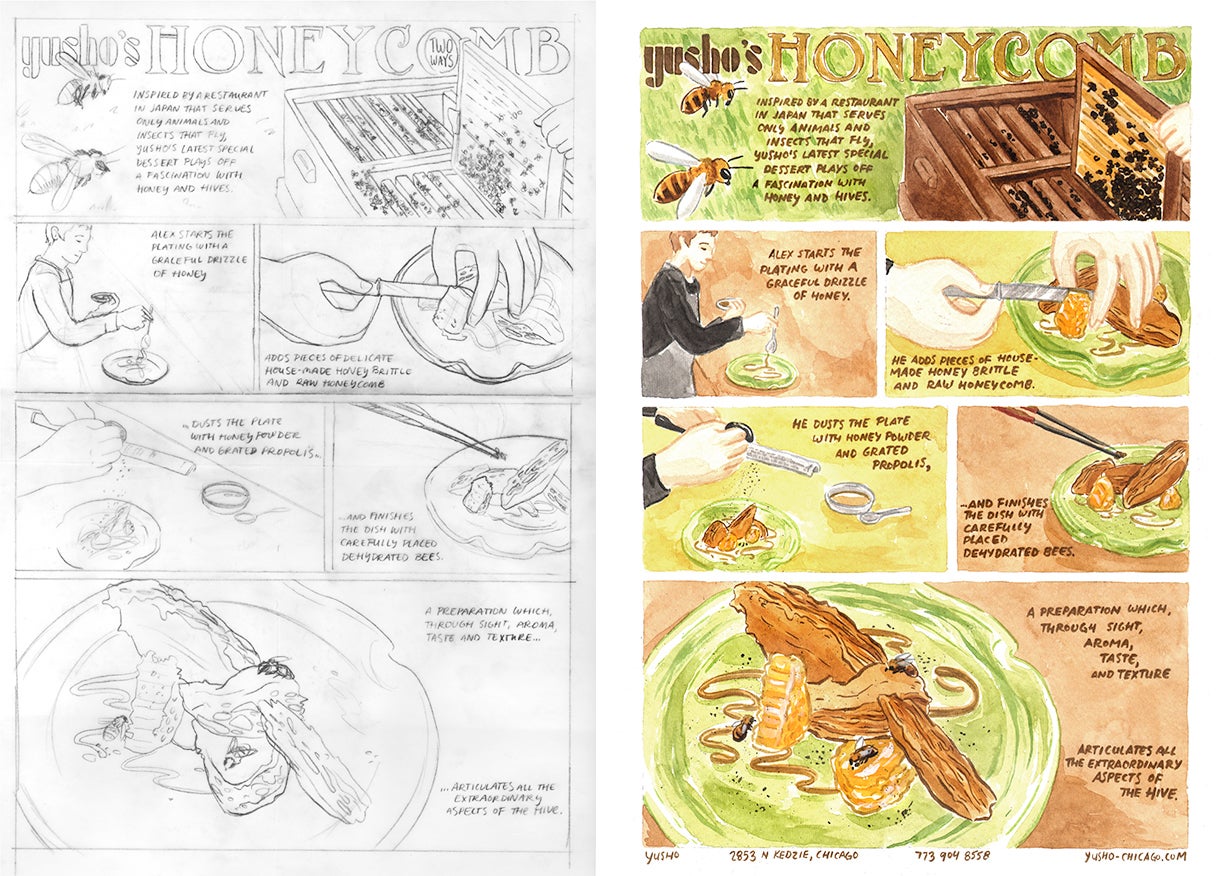 My boyfriend Niles and I love exploring new restaurants, and we're both fans of Japanese food in particular, so we were thrilled about the addition to the neighborhood when chef Matthias Merges opened Yusho right around the corner from us in Chicago's Logan Square/Avondale neighborhood in late 2011. I draw a regular webcomic about food called "I Think You're Sauceome," and I often include meals Niles and I have eaten when we try new restaurants. Over the course of the few months after Yusho's opening, I had drawn three different comics about eating there—the restaurant was a natural inspiration for my comics, because the food was not only amazingly tasty, but also gorgeously presented, and that makes it so much fun to draw.
The very first of the comics I did got picked up by a few Chicago food blogs, and I ended up making a print of it for the restaurant (I'm told it's still hanging in the kitchen). By the time I published the third one, Patric King of House of Pretty, who handles all of Yusho's print and web design, approached me to ask if I'd be interested in working with them on a long-term project of making comics for their email newsletter. I decided to do the pieces in watercolor, because I wanted them to have a distinct look (I generally draw with pen and ink, and use digital color), and I wanted to echo the warm and colorful feel of Yusho's interior.
See some of Sarah's Yusho comics—with her commentary—in the gallery »
_
_
Sign up for Yusho's e-mail newsletter, including the fortnightly Yusho Arts dispatch, at yusho-chicago.com »
Sarah Becan is an illustrator, designer and comics artist living in Chicago. She is the creative director at Fathead Design. She draws a lot of food on her webcomic I Think You're Sauceome; see more of her work at SarahBecan.com.