Squash at Moon in the Pond Farms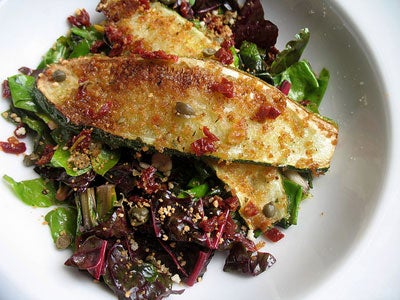 The name—which connotes a natural yet rare stroke of beauty—is an appropriate one for Moon in the Pond Farm. At this spread in Sheffield, Massachusetts, Dominick Palumbo is committed to growing only heirloom animal and vegetable varieties using traditional farming methods. From duck to geese, lemon cucumbers to crookneck squash, the farm produces diverse food for local chefs and the Sheffield farmers' market, which Dom helped launch. "I was inspired by Slow Food, and the need for heirlooms to participate in our food system, for their superior quality and applicability to locality," he told me recently.
With tomatoes in short supply due to blight, Dom suggests it's a good time to embrace other offerings of small farms. Besides, cucumbers, zucchini, and summer squash come in so many flavorful varieties that each type is "as unique as a bottle of wine," he says. Look for the light green and speckled costata romanesca zucchini, and try making my easy breadcrumb-crusted zucchini to use up any bountiful squash you have on hand.