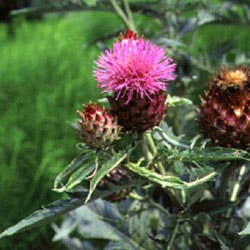 Culture
The Noble Thistle
Cardoons may be bitter and difficult to prepare, but for those who know and love them, they're indispensable.
As a child in Provence, I viewed our big holiday meals as fraught with danger. Too many opinionated, theatrical relatives, all with nostalgic regrets—all waiting, it seemed, for lightning to strike. But at our annual souper maigre, the meatless French Catholic meal served before midnight Mass on Christmas Eve, something interesting happened every year: The minute a basket of crisp, raw cardoon pieces was served as part of the first-course bagna cauda (literally "hot bath", a Piedmontese vegetable dish, adopted in Provence, featuring raw vegetables and a warm anchovy-garlic-and-olive-oil dip), conversations would shift from familial scandals to the food at hand. And by the time the cardoons reappeared at the table, in the form of a golden gratin, conviviality and laughter prevailed.
According to custom, after we'd eaten, and just before the family trooped off to Mass, we prepared a plate of food to leave behind for les pauvres ames, the poor souls—a term loosely encompassing lonely neighbors, the souls of deceased relatives, and even Pere Noel—in case any of them happened by in our absence. The plate included cheese, oranges, and nougat, but knowing the power of the cardoon, I always made a point to add a few crunchy stalks to the assortment.
The cardoon, Cynara cardunculus, a member of the thistle family, has been growing in southern Europe and North Africa for centuries. Pliny supposedly called them a wealthy man's treat; the farmers of medieval Cordoba and Carthage turned them into big business; they were apparently cultivated in the Moorish gardens of Seville. The vegetable is also the ancestor of the globe artichoke, which is mistakenly sometimes called one of the oldest foods known to man. Food scholar Clifford Wright, among others, believes that the artichoke is merely a cultivated cardoon that debuted in Europe in the 15th century.
The cardoon itself apparently became domesticated around the same time, in Italy. In its cultivated form, it grew to a height of as much as seven feet (wild, the plant was rarely more than three feet high) and had fewer thorns but fleshier leaves and stalks. Legend has it that all of these improvements were achieved by early agriculturalists simply soaking cardoon seeds in a mixture of rosewater and lavender and bay oils. Experimental gardeners were able to refine the vegetable still further by tying the plant at the top and shielding it from the sun for several weeks, thereby obtaining more delicate white center stalks.
Cardoons, which are only harvested from November through February, are grown in damp, temperate climates; the cooler the winter, some say, the more tender the cardoon. Although nowhere a major crop, the vegetable is grown today in France, Italy, Spain, Iran, Australia, Argentina, and England. The English, it must be noted, tend to enjoy the cardoon mostly in the garden, as a majestic blooming plant with blue or pinkish-purple flowers—not as something to be eaten. Since the early 20th century, the cardoon has also been cultivated in the United States, but commercial production is largely limited to a paltry 18 acres in Northern California. "There's always a patch or two of cardoons mixed in with the artichokes," says Gery Willey, deputy agricultural commissioner of Monterey County. "From a distance the two plants look a lot alike. Most people just don't know cardoons when they see them."
Most people in the United States, that is. Around the Mediterranean, the vegetable is recognized with great enthusiasm. It is widely agreed that the biggest, meatiest cardoons are French, from the region of Tours, presumably due to that area's rich soil and abundance of rainfall. Esteemed French chef Paul Bocuse claims that the Lyon variety is superior. I prefer the relatively smaller, more strongly flavored cardoons of my native Provence.
When we eat artichokes, we are eating the unopened flower buds of the plant. In the case of cardoons, we leave the buds alone and, instead, eat the stalks—which look like particularly thick, silvery-green rhubarb, but have the pungent-tart taste of an artichoke heart coupled with the sharpness and texture of celery. In Europe, the cardoon is often served raw, though it is also frequently boiled, fried, or baked—or some combination of the three. The cardoons most often available in the United States, however, are far too bitter to be eaten without cooking.
In 1911, British culinary historian Frederick Hackwood described the cardoon as "a delicacy of the Italians in former times", suggesting that it had fallen out of favor on the peninsula. Perhaps it was once more widely consumed in some regions than it is today, but it remains a favorite in Sicily, Tuscany, Piedmont, and Abruzzo—as well as in various parts of France, North Africa, and the Middle East. Its continued popularity may have something to do with its nutritional benefits (a surfeit of iron, potassium, and vitamins A and C) and its reputation as a restorative (according to one proverb, it gives "wit to maidens, and vigor to the not-so-young"), as well as for its unmistakable flavor.
Besides my Christmas Eve bagna cauda and gratin, I have enjoyed cardoons cooked with beef marrow; under a cream sauce; roasted beneath chicken or lamb; in a luscious pie mixed with chestnuts, eggs, and cream; and boiled, sauteed, breaded, deep-fried, and baked in one single gallant dish—the Tuscan cardi trippati, or cardoons prepared in the style of tripe. I especially like them dipped in flour and egg, fried into crunchy fritters, and dusted—while piping hot—with grated parmigiano-reggiano. In Italy's Abruzzo region, the vegetable stars in its own soup, zuppa di cardi; in Morocco, small pieces are added to couscous; and in Iran, it is featured in a rich, aromatic stew.
The joys of the cardoon are not easy to come by. Pat Hopper of Ocean Mist Farms in Castroville, California—the nation's leading producer of cardoons—is convinced that the trouble it takes to prepare is what has prevented Americans from discovering its assets. Properly trimmed, a cardoon yields even more waste than a globe artichoke. A six-pound bunch of it may get whittled down to two pounds of edible stalk. Once the thorns, leaves, and stringy fibers are removed, the stalks are usually cut into small pieces, rubbed with lemon (so that they don't turn black), and set aside in a bowl of acidulated water. In this country at least, cardoons usually need to be parboiled in a court bouillon or water spiked with lemon juice before using.
Even finding cardoons in this country may take some work: They are sold in Italian markets, upscale food stores specializing in exotic produce, and some select supermarkets. When you approach this noble thistle, then, think of yourself as a patient Penelope (or a thoughtful Ulysses): Embrace the long and somewhat messy process of preparing it as gratification in itself. Cardoons will not lead you down the crowded path of facile pleasures, but they might help encourage the relatives to behave.