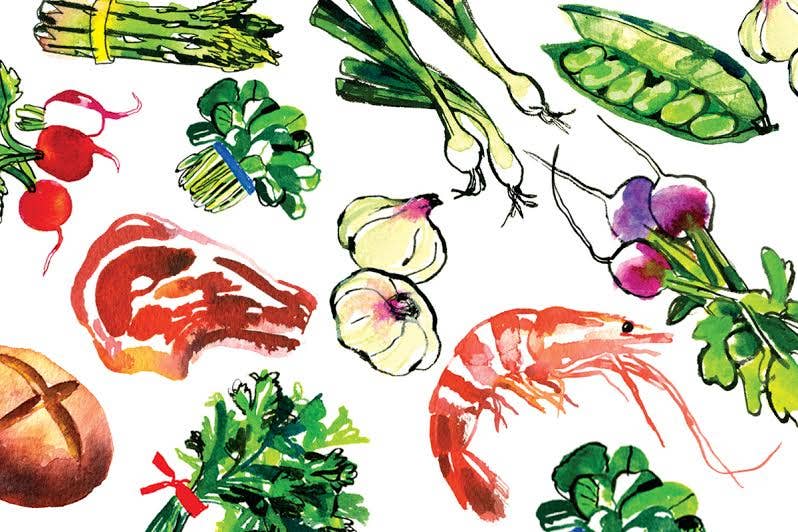 Culture
The Secret Spice of Gustav Brunn
Old Bay Seasoning changed the way America eats crab.
The gritty, orange-red spice mix called Old Bay Seasoning, sold in the distinctive, recipe-covered, blue-and-yellow metal canister, is as much a part of Maryland cooking today as the local blue crabs it so often flavors. Summers are all but defined there by the unmistakable aroma, pungent and spicy, that pervades the entire Chesapeake Bay region as feasters toss bushels of crabs, well coated with the mixture, into steaming pots of water, vinegar, or beer. When the crustaceans are as red as the seasoning, they're pulled out and heaped in the middle of long tables covered with newspaper and set with mallets and beer mugs. Eaters attack, pounding and picking their way through the pile, making a mess, staining their hands and faces a deep orange, in the process. It's an annual ritual.
Most crab lovers assume that Old Bay has been around as long as Chesapeake Bay residents have been eating crabs—but while spices and crabs have certainly been thrown into the same pots for generations in Maryland, Old Bay owes its creation to the dark days just preceding World War II.
In 1938, a German Jewish spice merchant named Gustav Brunn was arrested and sent to a concentration camp. His wife somehow secured his release—and the Brunns sailed for America with their two children. In his luggage, Brunn had packed his hand-cranked spice grinder.
The family ended up in Baltimore, and Brunn set out looking for work. With his experience in the trade, he was quickly hired at the Baltimore-based McCormick spice company. Unfortunately, three days later, when his lack of English became apparent, he was just as quickly fired. Unable to find another job, Brunn rented a small second-story space opposite Baltimore's Wholesale Fish Market, and went into business for himself. At first, he mixed blends for the pickles and cured meats that were popular in Germany. It wasn't long, however, before Brunn observed the local passion for crabs—which home cooks at that time flavored with their own improvised crab-seasoning spice blends. Brunn thought there might be a market for premixed crab spices, and tested ingredients and proportions until 1940, when he came up with a blend of celery salt, mustard, pepper, bay leaves, cloves, pimento, ginger, mace, cardamom, cinnamon, and paprika that seemed just the ticket.
At first, however, local cooks weren't interested—preferring instead their own "secret recipes". Finally, a wholesaler at the fish market agreed to sell Brunn's blend. Brunn named his seasoning Old Bay, and word—and distribution—quickly spread.
Brunn's company, Baltimore Spice, remained a family-run business until 1985, when Gustav— then in his nineties—sold the company to Smith Corona Machines. Soon after, Brunn died, but his spice lived on, being bought and sold by various companies. In a twist of fate, McCormick & Company, Inc. acquired, and still holds, the secret recipe for Old Bay. Surprisingly, throughout all the corporate shuffling, Brunn's original recipe has never changed.
Besides using Old Bay with boiled crab, fans add a dash to crab cakes, fried chicken, and even Bloody Marys (which some then call "Crabby Marys"). It also gets sprinkled into sausages, spaghetti sauces, and such—and has been the "secret ingredient" in more than one chili recipe in local cook-offs.
But, in the end, Old Bay remains mostly strongly associated with crab, and with summer. "During the coldest winter days," a loyal customer wrote the company, "I...pull out the Old Bay canister and take a big sniff. I can close my eyes and with one smell I am instantly transported to summertime [and] days spent out on the Bay catching crabs…."