The Spice Is Right
The first rule for delicious roasting is to choose the right seasonings.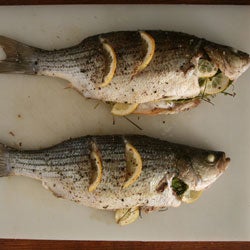 The most important step in preparing any roast is to season it in an exciting and attractive manner. Even salt, the most basic of seasonings, should not be overlooked. Though salt has a reputation as a drying agent, many chefs, like Judy Rodgers of San Francisco's Zuni Cafe, believe that thorough presalting actually enhances a roast's taste and juiciness by breaking down protein cells. We have to agree. To achieve optimal results, rub the meat with a dry brine of flaky sea salt (approximately three-fourths of a teaspoon per pound) two days before cooking it.
For other seasoning ideas, look no farther than your kitchen cupboards. A few simple, carefully chosen herbs and spices can go a long way. Pastes made from store-bought pesto and sun-dried tomato lend a Mediterranean flavor to any cut, and coating your roast with smoked paprika stains the meat and helps create a darker, more distinct crust. A whole roasted fish looks and tastes wonderful when slit and stuffed with thinly sliced lemon, garlic, and herbs. When cooking lamb, try massaging it with crushed garlic and rosemary or a thick emulsion made with mashed anchovies and capers; for pork, try scoring the rind and rubbing it with sage leaves or a dry blend of crushed fennel seeds, star anise pods, cinnamon, cloves, and black peppercorn.