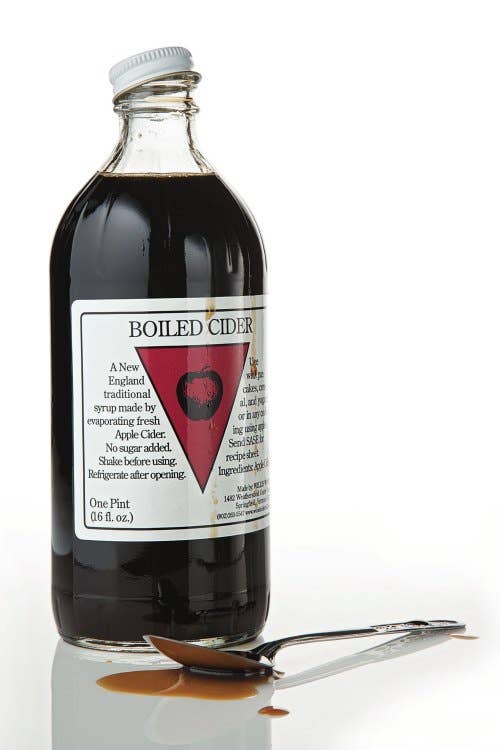 Techniques
Fruit Forward: Wood's Boiled Cider
Vermont cider syrup is the essence of apples
When I first encountered Wood's Boiled Cider drizzled atop fresh-baked biscuits during breakfast at a friend's house in New England, I figured it must be maple syrup. But the taste revealed something entirely unexpected: a dense, concentrated nectar evocative of dried figs, rich lager, autumn leaves, and apples—thousands of apples.
Made once a year on the Weathersfield, Vermont, farm that's been in Willis Wood's family since 1798, the recipe for this one-ingredient wonder has remained the same for centuries: Fresh apples—mostly McIntosh for a good balance of sweet and tart—are juiced on the screw-cranked press that's done the job since the late 1800s. The resulting cider is run through a wood-fired flue pan, the same kind of equipment used to concentrate maple sap into syrup. For every ten gallons Wood pours in, nine are lost to evaporation, and what remains is thick, delicious boiled cider. After cooling, the precious elixir goes straight into a glass bottle and is sealed in; nothing is added, and nothing but water is taken away. The result is a foodstuff that is the essence of New England, and of apples themselves.
Its complex flavor—sharp and rich all at once—makes boiled cider an exceptional sweetener; once a homegrown alternative to imported sugars and molasses, it was a staple of the preindustrial Northeast. Yet by the time Wood and his wife, Tina, took over the farm in 1970, the demand for it had slowed to a trickle. For a while, most of their customers were hardy octogenarian Vermonters still making their mothers' pre-Depression recipes for mincemeat filling, applesauce, and boiled-cider pie. Nowadays a renewed interest in local and heritage foods is bringing boiled cider back into pantries in New England and beyond. At home I use it for sweetening cakes and pies, glazing tarts, and brightening gravies. When brushed with equal parts fiery mustard on a pork roast, it adds mouthwatering vibrancy. But my all-time favorite way to use it is simply to stir a tablespoon or two into a mug of boiled water for a cider tea that beats regular hot cider for both nuance and depth.