You Raised $41,762 for Charity!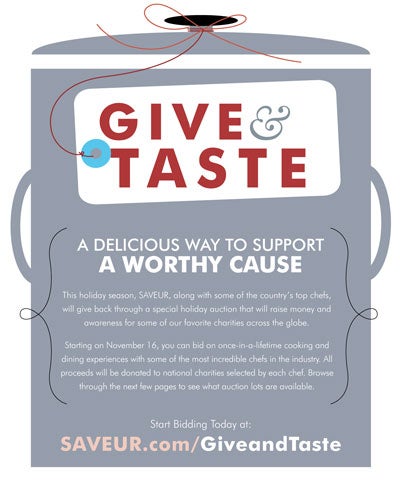 Talk about a heartwarming holiday story: this season, SAVEUR teamed up with some of our favorite chefs for Give & Taste: SAVEUR Chefs Give Back, in which you had the opportunity to bid on extraordinary, once-in-a-lifetime packages and experiences in support a slew of chef-selected worthy causes. From November 16 through December 16, you bid on these items — a farmers market tour with Peter Hoffman in New York, a behind-the-scenes lunch at Spiaggia in Chicago, even meals here in the SAVEUR test kitchen with chefs like Neal Fraser and Eric Ripert.
All told, you raised $41,762 for charitable causes selected by each chef. A particular tip of the hat goes to Las Vegas-based chef David Walzog, who pulled in the highest bid of all — $8,000 — for his package of dinner at his restaurant as well as two nights at the Wynn hotel and tickets to Cirque du Soleil. But really, with giving so generous and prizes so great, everyone's a winner.