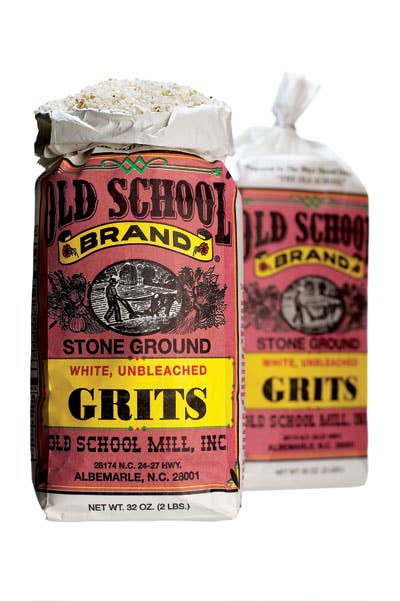 Culture
Southern Comfort: Truly Old School Stone-Ground Grits
These stone-ground grits are the genuine article
Being a native North Carolinian, I grew up eating grits for breakfast. Being a North Carolinian raised in the 1970s, I ate instant grits, which cook up quickly into a smooth porridge because of the way they're processed: Dried corn is stripped of its tough hull and highly perishable germ, leaving the endosperm—the starchy heart of the kernel—which is milled, precooked, and dehydrated, so it can be easily reconstituted with boiling water. Those grits tasted just fine with some cheddar and hot sauce, but on their own, they were gluey and bland. It wasn't until years later, when I tasted the stone-ground grits from Old School Mill in Albemarle, North Carolina, that I realized what I'd been missing.
Old School is one of a growing number of purveyors that process grits the old-fashioned way, in a stone mill. Late founder Dave Hinson started the operation as a hobby. (Since he passed away in 2010, his widow, Robin, has been running the company.) In 1986, Dave bought and refurbished a 45-year-old mill, and he studied under the state's few remaining millers to learn their craft. That means crushing locally grown, dried white corn kernels between stone wheels, a technique that incorporates the endosperm along with the germ, which is packed with nutrients, oil, and that delicious corny flavor. When cooked, the resulting rustic mix of brown and white opaque pieces—speckled in grits parlance —tastes nutty, toasty, and pleasantly earthy. And even when stirred to creaminess, they retain an extraordinary texture that's chewy and velvety at once.
Old School grits, which should be stored in the refrigerator to keep them fresh, require a whopping eight parts water to one part grain, and they can simmer for two hours for a large batch. But they're well worth the time. I love to have them for breakfast with grated cheddar and a shot of Tabasco; later on, for dinner, I form the leftovers into patties, fry them until crisp, then top them with salsa verde, cherry tomatoes sauteed with garlic and onion, or eggs poached in olive oil. No matter how I eat them, I wouldn't think of making grits in a hurry anymore. A two-pound bag of Old School white, unbleached grits costs $3.49, plus shipping. To order, visit oldschool.com.