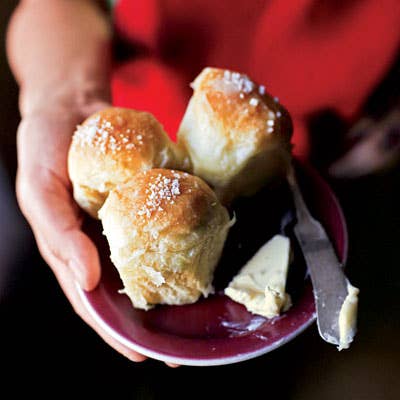 Culture
Bread Winner
The Parker House roll is fluffy, rich, and as seductive as ever.
For many of us, there's a certain smell that we associate with the start of the workday. It might be the nutty aroma of that first cup of coffee, the gasoline vapor of a parking garage, or the antiseptic tang of an office lobby. When I walk through the doors of Colicchio & Sons, my restaurant in New York City's Chelsea neighborhood, it's yeast that I smell. Buttery, sweet, and welcoming, the scent of 500 baking Parker House rolls (see Recipe: Colicchio & Sons' Parker House rolls)--the number we serve in a single night—hits me like a carb-loaded wave. (Each guest typically eats an average of three of the decadent rolls, served gratis, during the course of a dinner.) Starting at 11:00 a.m., the aroma wafts from the kitchen through the dining room and bar, tempting the prep cooks, the servers, the suppliers stopping in with their deliveries, and, of course, me.
In my opinion, the homey elegance, downy crumb, and lusciously rich flavor of the Parker House roll is unrivaled among breads. But it was purely by chance that I developed my own recipe for it.
As in households across America, it has always been a tradition at Craft, my decade-old Manhattan restaurant, to serve Parker House rolls on Thanksgiving. We used to buy them from a terrific local bakery, until one year we were late getting in our order and ended up having to make the rolls ourselves. We baked them nestled in batches of six in miniature rectangular cast-iron pans (those were what we happened to have on hand, though a round eight-inch skillet works just as well). Then we sent them, pans and all, into the dining room, still hot from the oven, the golden domed tops glistening with clarified butter and scattered with fleur de sel. Our rolls were popular beyond my wildest expectations, the diners leaving the pans empty, strewn with a few telltale crumbs. They just seemed to strike a chord with people. Now it's not only a tradition to serve them at Craft's Thanksgiving dinner; Parker House rolls also mark the beginning of every meal at several of my restaurants around the country.
Parker House rolls, a pain au lait (milk bread) with a distinctly Yankee pedigree, first appeared in the mid-1870s at Parker's, the restaurant located inside Boston's Parker House hotel. The recipe made its way into home kitchens when it was published in the first edition of Mary Johnson Lincoln's seminal guide to American cookery, Mrs. Lincoln's Boston Cook Book (Roberts Brothers, 1884). It has remained part of the American repertoire ever since.
The rolls we make in our restaurants are not radically different from those prepared according to Mrs. Lincoln's 19th-century formula. Our bakers use fresh cake yeast, which, while consistent with early Parker House roll recipes, has largely been replaced with dry yeast in more recent iterations (dry yeast is just as effective and easier to find). While most recipes call for a small amount of sugar, we add malt syrup, a natural sweetener made from sprouted barley that I think tastes more interesting than plain sugar, lending caramel and molasses undertones to the flavor of the bread.
The iconic beauty of a Parker House roll lies in that moment when you break through the firm, toasted crust to reveal a steaming, light-as-air interior, riddled with tiny bubbles. To achieve the requisite fluffiness, it's crucial not to overwork the dough. Excessive handling or kneading develops gluten, the proteins that give dough its elasticity, which leads to a roll that is rubbery and dense. To safeguard against this undesirable result, mix the dough only until it begins to pull away from the bowl if you're using a stand mixer, or, if you're mixing the dough by hand, until it's tacky to the touch but not sticking to your fingers.
The toughest part for home cooks, however, is remaining patient while waiting for the dough to rise three times before it goes into the oven. In our restaurants, we have a piece of equipment called a "proof box," which maintains a constant temperature and humidity, allowing for a predictable leavening time. For home cooks, I suggest placing the dough in a cold oven along with a pan of water or a damp pizza stone. The moisture in the environment encourages the dough to rise.
The main difference between classic Parker House rolls and the ones that I serve is the shape: most traditional recipes call for cutting the dough into rolls with a round or oval biscuit cutter and folding them in half like a taco; mine are formed into balls and baked in groups of six in cast-iron baking dishes. The cast iron gets hot enough to give the rolls a good exterior crust, and clustering them prevents the bread from drying out. Since cast iron retains heat, it also keeps the rolls warm over the course of a meal—though if your Thanksgiving table is anything like ours, it's unlikely that they'll stick around that long.