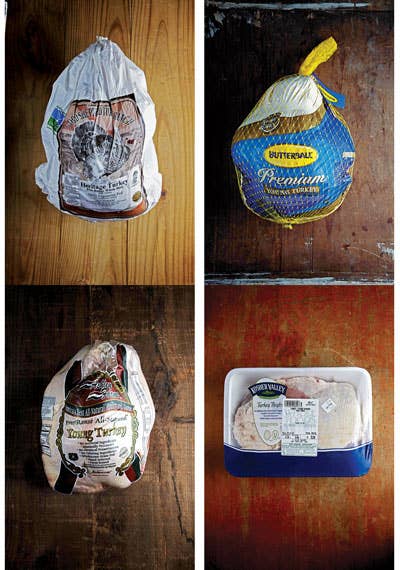 Culture
Turkey Hunt
Before you decide how you're going to cook your turkey, you need to decide what kind of turkey you're going to cook. Heritage, natural, pre-basted, kosher—here's our guide to what to buy.
1. Heritage turkeys are old-fashioned breeds—typically with a more elongated frame and leaner breast meat than the standard supermarket bird—that farmers like Frank Reese of Good Shepherd Poultry Ranch in Tampa, Kansas, are raising again, and we couldn't be happier about it. You'll pay top dollar because these turkeys live outdoors, eat a vegetarian diet without antibiotics, and take nearly twice as long to raise as commercial birds, but they boast a much fuller flavor. Their delicious, lean meat is well suited for braising, as in the Turkey with Sauerkraut, Riesling, and Pork Sausages recipe.
Butterball's premium young frozen turkeys are "pre-basted"—that is, injected with a solution that includes salt (so there's no need for brining), starch, and sodium phosphate, which keeps the turkey juicy. Roast a Butterball whole, or cut one into parts to make the Roast Turkey with Root Vegetables and Gravy recipe.

Turkeys labeled "natural," like the ones sold by Ashley Farms in Winston-Salem, North Carolina, are typically grain fed and raised antibiotic- and hormone-free. You can order one from a butcher or specialty store; the cost is generally more per pound than for a conventionally raised bird. We recommend brining these turkeys to boost their flavor and juiciness; for recipes like the Sage-Brined Roast Turkey with Oyster Dressing, there's nothing better.
4. Kosher turkeys are processed according to Jewish dietary law under rabbinical supervision; salting, part of the process, makes them moist and flavorful. We like relatively inexpensive brands such as Kosher Valley and Empire Kosher. A kosher bird is a reliable choice for a wide range of preparations, from the Turkey in Mole Poblano recipe to the Boudin-Stuffed Turkey Breast recipe.