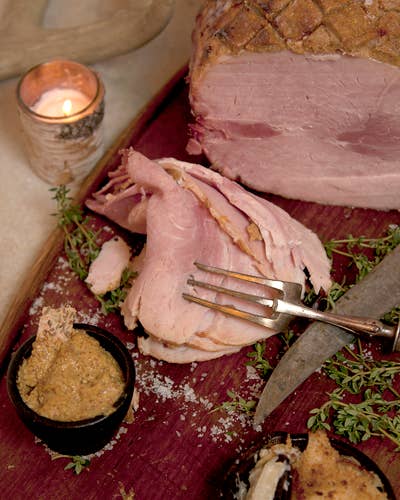 Recipes
Menu: A Swedish Winter Smorgasbord
The Menu
Snaps such as Aquavit or Vodka
More About This Menu
It should be noted that Gravlax takes at least 48 and up to 72 hours to prepare, so plan ahead accordingly. But it's certainly worth the wait! Serve the finished product with a spread of Knackebrod, finely diced red onion, capers, dill sprigs, and Mustard-Dill Sauce (Gravlaxsas).

The Swedish Smorgasbord traditionally has five parts, requiring five trips to the table: The first consists of herring dishes (such as pickled herring) accompanied by cold cheeses and boiled potatoes, followed by shellfish or fish dishes like gravlax. The third stage offers room temperature roasts or cold cuts with cucumber salad, and the final trip features warm foods like Jansson's Temptation and Swedish meatballs. Learn more about the history of the Smorgasbord with Christy Hobart's article Smorgasbord Style.

Sillsallad (herring and beet salad) and Julskinka (Christmas ham) are special Christmas additions to the regular Smorgasbord spread, appearing only on the julbord (the holiday version of the Smorgasbord, meaning literally Christmas table).

Swedish Glogg is a hot mulled wine usually spiked with vodka, brandy, or aquavit. This particular version comes from chef Marcus Samuelsson, inspired by memories of his grandmother making the drink in her Goteborg, Sweden, kitchen. Serve your guests glasses of warm glogg with tiny spoons to scoop up the slivered almonds and wine-plump raisins sprinkled in the bottom of their cups, alongside ginger cookies.

For more about Holidays in Sweden, read Christy Hobart's articles Lighting up the Season and The Feast of Santa Lucia.