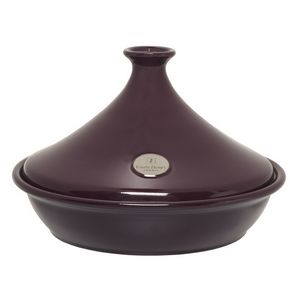 We may earn revenue from the products available on this page and participate in affiliate programs.
I've wanted a tagine ever since a cooking class at a Marrakech riad revealed the potential of these conical earthenware pots for yielding intensely rich and flavorful slow-cooked stews, but it was the exquisite craftsmanship as much as the promise of authentic Moroccan meals at home that sent me scouring the marketplace (let's be honest—a tagine would just look cool in my kitchen). To my dismay, I discovered the colorful, painted versions that caught my eye were exclusively decorative, and the only functional tagines I came across in the souk were plain, unglazed clay.
A year later I stumbled across the perfect tagine in the endless labyrinthian bazaar that is the internet: Emile Henry's Flame Top Tagine, a harmonious union of function and design. The French cookware company's ceramic tagines come in elegant colors such as olive and figue that don't fade with use, and the dish's glossy finish saves me the trouble of repeated seasonings. It's also safe for use in the oven, microwave, freezer, and dishwasher, and while all of this is incredibly convenient, the best thing about the tagine is its size—individual and medium sizes are available, but I opted for a 3.7 quart dish capable of serving an entire dinner party, which I've now done several times, with minimal cleanup time and an effortlessly impressive presentation.
Emile Henry Flame Top Tagine, $135-180 at emilehenryusa.com