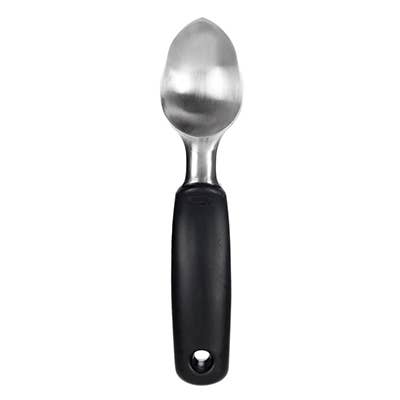 Techniques
Stainless Steel Ice Cream Scoop
The pointed tip on this sturdy, no-slip scoop makes dishing up summer treats a breeze.
Given the amount of frozen dessert I'm eating this season, I don't want to struggle over a too-hard pint (or, more likely, half-gallon) of ice cream, resulting in a sore wrist and a bruised ego. What I want is a no-nonsense, heavy-duty ice cream scoop that will get the job done, ensuring an agreeably short lag time between ice cream in the carton and ice cream in my mouth.
The best scoop I've found for the task is OXO GoodGrips' solid stainless steel ice cream scoop: Its pointed tip carves into even a too-frozen pint with ease, its flat sides get into all the nooks and crannies of the ice cream container, and its heftiness ensures that the scoop—and not your wrist—is doing all the work.
OXO GoodGrips Stainless Steel Ice Cream Scoop, $14.99 at amazon.com