Apple Crumble with Hot Custard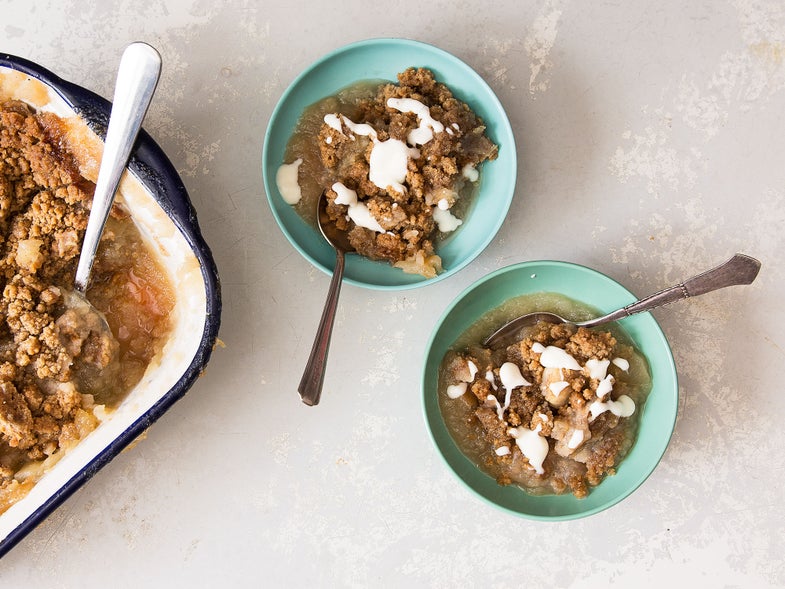 We enjoyed this warm and comforting dessert while visiting a sheep farm in new Zealand.
Yield: serves 8
Ingredients
FOR THE CRUMBLE:
12 granny smith apples, peeled, quartered, cored, and thickly sliced
1⁄2 cup sugar
2 cups flour
1 1⁄2 cups brown sugar
1 tsp. ground cinnamon
1⁄4 tsp. ground cloves
16 tbsp. butter, cut into pieces
FOR THE CUSTARD:
2 1⁄3 cups milk
1⁄4 cup sugar
4 tbsp. butter, melted
1⁄4 cup flour
1 egg
1 tsp. vanilla extract
Instructions
For the crumble: Preheat oven to 350º. Put apples and 1 cup water into a large, deep skillet and cook over medium heat, stirring occasionally, until some of the apples are very soft, 20-30 minutes. Stir in sugar and transfer to a large baking dish. Combine flour, brown sugar, cinnamon, and cloves in a large bowl. Work butter into flour mixture until it resembles coarse meal, then spread over apples. Bake until golden, 40-45 minutes.
For the custard: Warm milk in a medium pan over medium heat. Meanwhile, whisk sugar, butter, flour, and egg together in a large bowl. Whisk 1 cup of the milk into the sugar-flour mixture. Gradually add mixture back into the milk in the pan and cook, stirring constantly, until thick, 5-8 minutes. Remove from heat. Add vanilla.
Serve crumble with some hot custard spooned on top.