Recipes
Bacalaítos Fritos con Bacalao Guisado (Codfish Fritters with Cod Salsa)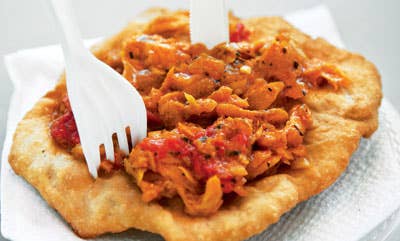 Salt cod does double duty in this fritter topped with piquant cod salsa. This recipe first appeared in our December 2011 issue along with Kathleen Squires's story Island Holiday.
Ingredients
1 1⁄2 lb. salt cod
1 cup plus 1 tbsp. canola oil
1⁄2 tsp. achiote seeds
1⁄4 cup sofrito
1⁄2 cup whole, peeled, canned tomatoes in juice, crushed
3 plum tomatoes, minced
1 bay leaf
Kosher salt and freshly ground black pepper, to taste
1 1⁄2 cups flour
1 tsp. baking powder
4 sprigs cilantro, minced
2 cloves garlic, minced
Instructions
Step 1
To make salsa, place cod in a 2-qt. saucepan, and cover by 2″ with cold water; boil for 20 minutes. Drain cod, return to saucepan, and repeat process twice more. Transfer cod to a bowl, and flake with a fork into large chunks; set aside. Heat 1 tbsp. oil and achiote in a 12″ skillet over medium-high heat until oil turns red; remove and discard achiote. Add sofrito, tomatoes, bay leaf, and salt and pepper; cook until thickened, about 15 minutes. Add two thirds of the cod; cook for 5 minutes. Let cool.
Step 2
To make batter, whisk flour, baking powder, cilantro, and garlic in a bowl. Stir in remaining cod and 1 ½ cups water until smooth. Heat remaining oil in a 12″ skillet over medium-high heat. Working in batches, pour ¼ cup batter into skillet; cook, flipping once, until golden brown, about 3 minutes. Drain fritters; top with salsa to serve.