Recipes
Beer-Battered Haddock
A mix of cold water and light beer yield remarkably crispy fried fish.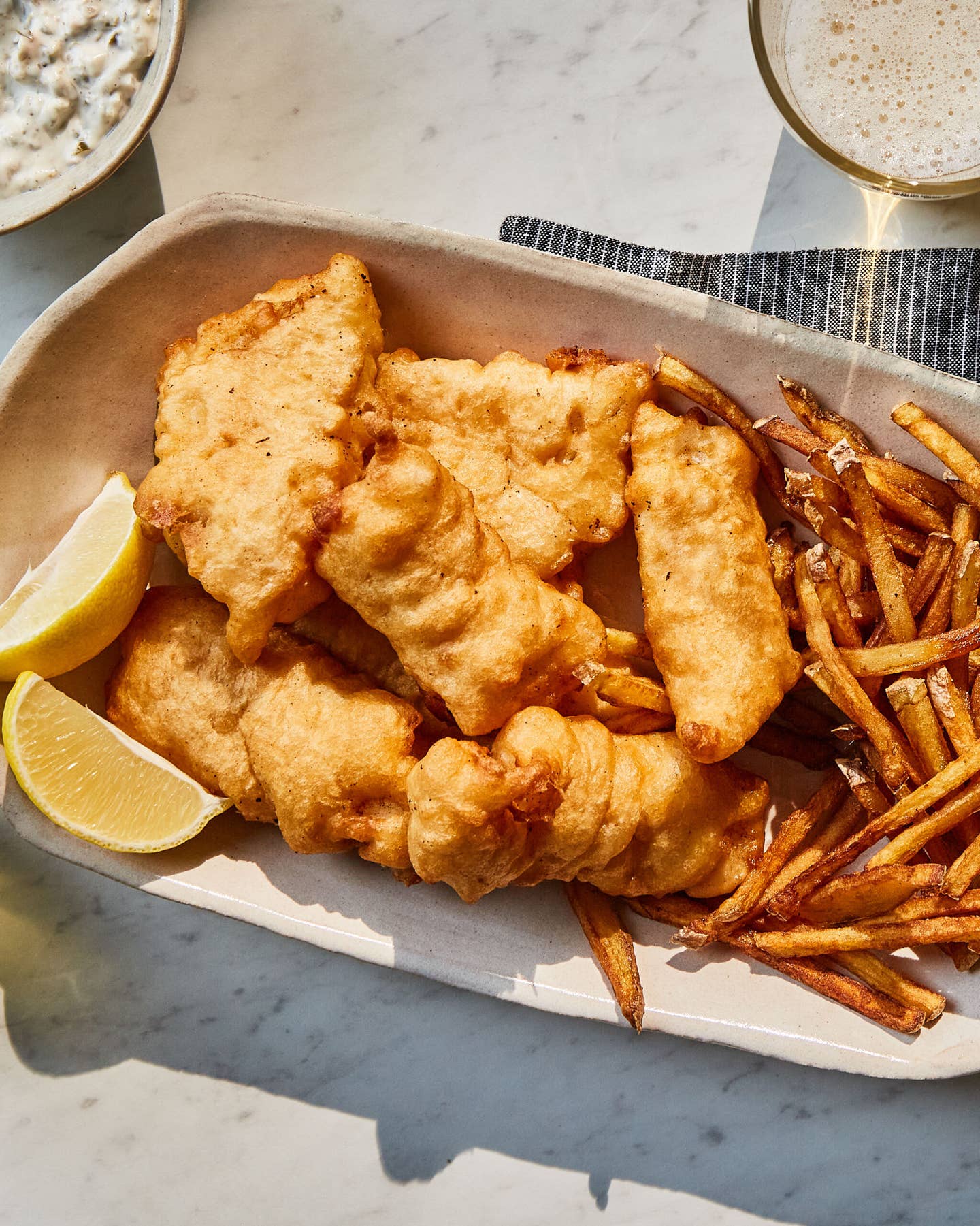 Dennis Wegner, chef-owner of Wegner's St. Martins Inn in Franklin, Wisconsin, makes his batter with a combination of water and beer (preferably Miller Lite), for wonderfully crisp and light fried fish filets. Pair the recipe with our best french fries and tartar sauce for the ultimate fish and chips.
Ingredients
2 cups all-purpose flour
1 tsp. paprika
1 tsp. seasoning salt, such as Lawry's
1 12-oz. bottle light beer, such as Miller Lite
4–6 tbsp. unsalted butter, softened
Vegetable oil, for frying
1 1½-lb. boneless, skinless haddock fillet, cut into 2-in. by 3½-in. chunks
Fine salt
1 lemon, cut into wedges
Tartar sauce, for serving
Instructions
Step 1
In a large bowl, whisk together the flour, paprika, and seasoning salt, then pour in the beer and ½ cup of water and whisk into a smooth batter. Line a baking sheet with paper towels and set it by the stove.
Step 2
Into a medium Dutch oven set over medium-high heat, pour the oil to a depth of 2 inches and attach a deep-fry thermometer. Use paper towels to pat the haddock dry and season with fine salt. When the temperature reads 350°F, dip the haddock into the batter, allowing any excess to drip back into the bowl, and fry, turning occasionally, until deep golden and cooked through, about 5 minutes. Use a slotted spoon to transfer to the lined baking sheet to drain.
Step 3
To serve, divide the fried fish among 4 plates, garnish with lemon wedges, and serve with tartar sauce on the side.