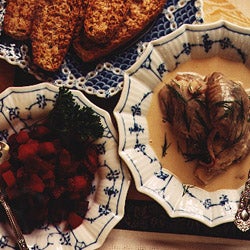 (Sillsallad)
Christer Larsson of Christer's restaurant in New York shared the recipe for this Christmas classic with us.
Yield: serves 6
Ingredients
1 cup sugar
1⁄2 cup Swedish vinegar
1 tsp. salt
1 tbsp. allspice berries
1 bay leaf
1 red onion, peeled and sliced
5 beets
2 filets pickled herring, diced
3 potatoes, peeled, boiled, and diced
1 sweet pickle, diced
1 apple, peeled and diced
Freshly ground white pepper.
Instructions
Combine sugar, vinegar, salt, allspice berries, bay leaf, onions, garlic, and 2 cups water in a pot. Bring to a boil, then cool.
Boil beets until tender, peel, place in a large jar, and cover with vinegar mixture. Refrigerate for 3 days.
Dice pickled beets and place in a bowl. Add pickled herring, potatoes, pickles, and apples. Season with pickling liquid and pepper.