Recipes
Blueberry Pancakes
Keep your hotcakes light and fluffy with a bit of yogurt and a splash of seltzer.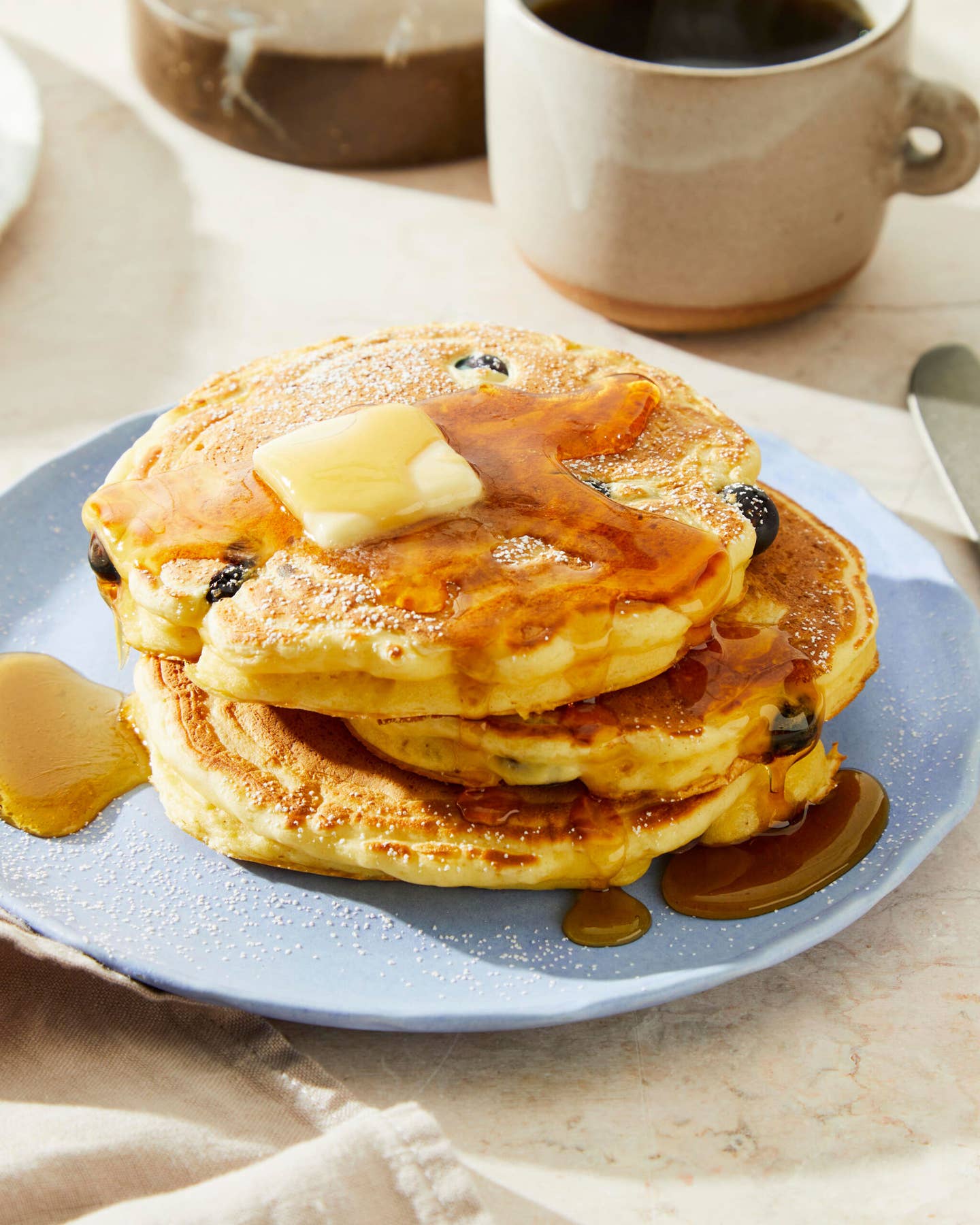 For light and fluffy pancakes, California farmer and memoirist David "Mas" Masumoto adds a splash of seltzer to the batter. Yogurt activates the baking soda, and also contributes mild tang and smooth consistency. Find our 13 best sweet and savory pancake recipes here.
Ingredients
2 cups flour
1 tsp. sugar
½ tsp. fine salt
1 cup plain full-fat yogurt
2 tsp. baking soda
½ cups seltzer water or club soda
2 large eggs, lightly beaten
6 tbsp. unsalted butter, plus more for serving
3 cups fresh blueberries
Confectioners' sugar
Maple syrup
Instructions
Step 1
Into a large bowl, sift the flour, sugar, and salt, and whisk to combine.
Step 2
To a medium bowl, add the yogurt and baking soda, and whisk to combine.
Step 3
Add the yogurt mixture, seltzer, and eggs to the flour mixture, and whisk until barely combined and a few streaks of flour remain. Set aside for 10 minutes to allow the flour to hydrate.
Step 4
In a large cast-iron skillet, melt 1 tablespoon of the butter over medium heat. When the foam subsides, scoop ¼ cup of the batter into the skillet for each pancake, leaving 2 inches between them. Top each pancake with ¼ cup blueberries, pressing them gently into the batter with a spoon. Cook until you see bubbles forming on the top of the pancakes and they begin to pull away from the bottom of the pan, 2–3 minutes, then use a spatula to flip. Continue cooking until golden brown on both sides and the batter is cooked through, about 2 minutes. (Alternatively, for "silver dollar" pancakes, spoon 1 heaping tablespoon of batter into the skillet for each pancake and top with 1 tablespoon of blueberries.)
Step 5
Transfer the pancakes to a serving platter and tent with foil to keep warm while you cook the rest of the batter, adding more butter to the skillet between batches. Dust all over with powdered sugar and serve immediately, with additional butter and maple syrup if desired.
From waffles to noodles to the best Hanoi-style pho, here's how the world wakes up with the most important meal of the day.