Blueberry Pancakes
Seltzer is the key to a light texture for these summertime hotcakes.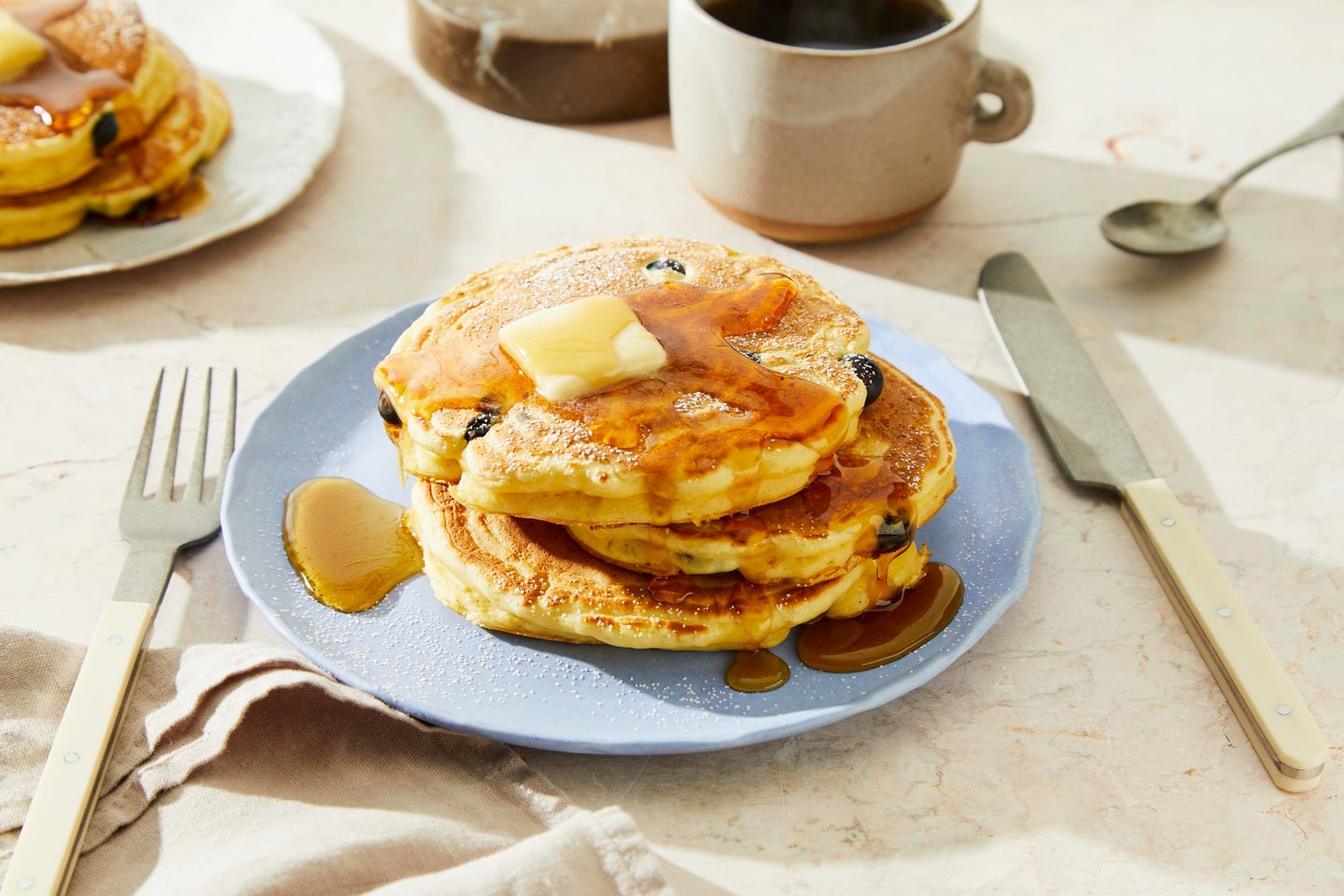 This blueberry pancake recipe adds seltzer water for a light texture. Yogurt gives them a mild tang and a smooth consistency. Find our 13 best sweet and savory pancake recipes here.
Blueberry Pancakes
The addition of seltzer water and yogurt to the batter lends these pancakes a light texture, a mild tang, and a smooth consistency.
Ingredients
2 cups flour
1 1⁄4 tsp. sugar
1⁄2 tsp. fine salt
1 cup yogurt
2 tsp. baking soda
1⁄2 cup seltzer water or club soda
2 eggs, lightly beaten
6 tbsp. unsalted butter, plus more to taste
3 cups fresh blueberries
Confectioners' sugar
Maple syrup
Instructions
Place a sieve over a large bowl and sift together the flour, sugar, and salt. In a large bowl, stir together the yogurt and baking soda; let sit for 10 minutes. Add the yogurt mixture, seltzer, and eggs to the flour mixture and whisk until just combined. Let batter rest for 10 minutes.
Heat 1 tbsp. butter in a 12″ nonstick skillet over medium heat. Working in 6 batches, spoon 2 portions of batter (about 1⁄4 cup each) into skillet, gently spreading out each portion of batter with the bottom of a spoon or a measuring cup to make disks about 4 1⁄2″ in diameter. Cook pancakes until bubbles begin to form around edges, about 2 minutes. Top each pancake with 1⁄4 cup blueberries, press down on them gently with a spoon, flip each pancake with a spatula, and cook until golden brown, about 2 minutes more. (Alternatively, for "silver dollar" pancakes, spoon 1 heaping tbsp. batter into the skillet for each pancake and top with 1 tbsp. blueberries.) Transfer pancakes to a paper towel–lined baking sheet and cover with a towel to keep warm. Wipe out skillet and repeat process with remaining butter, batter, and blueberries to make 12 pancakes in all. Dust with confectioners' sugar and serve with butter and maple syrup.
From waffles to noodles to the best Hanoi-style pho, here's how the world wakes up with the most important meal of the day.