Chicken-Fried Steak with Sausage Gravy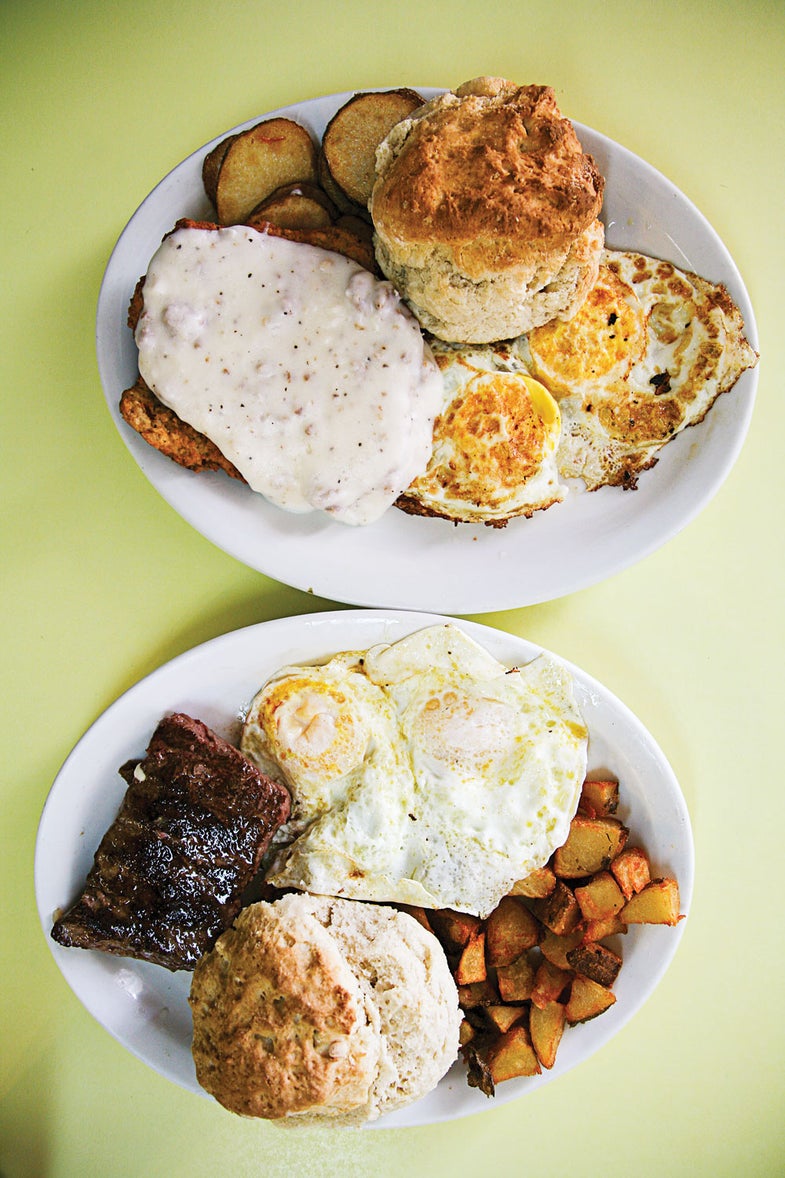 Inexpensive cube steaks, tenderized by the butcher, work best for this heartland breakfast staple. This recipe first appeared in our August/September 2013 Heartland issue.
Chicken-Fried Steak with Sausage Gravy
Chicken-fried steak with sausage gravy and biscuits is a heartland breakfast staple.
Ingredients
1 cup buttermilk
1 1⁄2 tsp. freshly ground black pepper, plus more to taste
1⁄2 tsp. onion powder
1⁄4 tsp. cayenne
1⁄8 tsp. dried oregano
1⁄8 tsp. ground cumin
2 eggs, lightly beaten
Kosher salt, to taste
1 cup plus 3 tbsp. flour
1 cup canola oil
4 (8-oz.) cube steaks, about 1/4″ thick
2 oz. pork breakfast sausage
2 cups milk
Hot sauce, to taste
Fried eggs, skillet-fried potatoes, and buttermilk biscuits, for serving (optional)
Instructions
Whisk buttermilk, black pepper, onion powder, cayenne, oregano, cumin, eggs, and salt in a bowl. Place 1 cup flour in a shallow bowl.
Heat oven to 200°. Heat oil in a 12″ cast-iron skillet over medium-high heat. Working in batches, dip steaks in buttermilk mixture and then coat in flour, shaking off excess. Fry, flipping once, until golden and cooked through, 5-7 minutes. Transfer steaks to a baking sheet fitted with a rack and place in oven to keep warm.
Heat a 4-qt. saucepan over medium-high heat. Add sausage; cook, stirring and breaking up meat into very small pieces, until browned, 3-5 minutes. Sprinkle in 3 tbsp. flour; cook 1 minute. Whisk in milk and bring to a boil; cook until gravy is slightly thick, about 2 minutes. Season with salt, pepper, and hot sauce.
To serve, divide steaks among plates; ladle with gravy. Serve with eggs, potatoes, and biscuits, if you like.