Chicken and Parsley Root Salad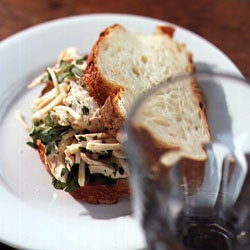 Parsley root gives a perfect crunch to this recipe. Serve this preparation between slices of hearty French bread for a sandwich or spoon onto bibb lettuce for a refreshing salad.
Yield: serves 4
Ingredients
2 whole chicken breasts
2 parsley roots, washed and peeled
¼ cups parsley leaves, finely chopped (washed well to remove any dirt, and dried)
1 packed cup watercress leaves, washed and dried
⅓–½ cups mayonnaise
Salt and freshly ground black pepper
Instructions
Poach chicken breasts in enough simmering salted water to cover for about 25 minutes, until tender but not dry. Remove from water and set aside to cool.
Meanwhile, slice parsley roots first into thin rounds and then into a fine julienne. Place in a mixing bowl.
Bone and skin the cooled chicken breasts. Cut the meat into large chunks and add it to the parsley root, along with parsley leaves, watercress leaves, and mayonnaise. Season with salt and pepper to taste, and toss to combine.