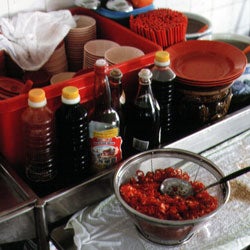 In Singapore, many sauces accompany Hainanese Chicken Rice, but this is the definitive one.
Chile–Ginger Sambal
This classic Singaporean sauce is both spicy and tangy.
Ingredients
12 red serrano chiles, trimmed
1 shallot, peeled and chopped
2 tbsp. peeled, chopped ginger
5 garlic cloves, peeled and chopped
1 tbsp. plus 1 tsp. fresh lime juice
1 tsp. rice vinegar
2 tsp. sugar
1 tsp. salt
Instructions
Blanch chiles in boiling water in a medium pan for 1 minute. Purée chiles with shallots, ginger, and garlic with a mortar and pestle or in a food processor.
Stir in 2 tbsp. water, lime juice, rice vinegar, sugar, and salt. Set aside for 1 hour before serving. Sauce will keep in refrigerator for 2 weeks.