Recipes
Retro Chinese Chicken Salad
Pay homage to beloved Hollywood restaurateur Madame Wu by whipping up the fresh, gingery, protein-packed main today.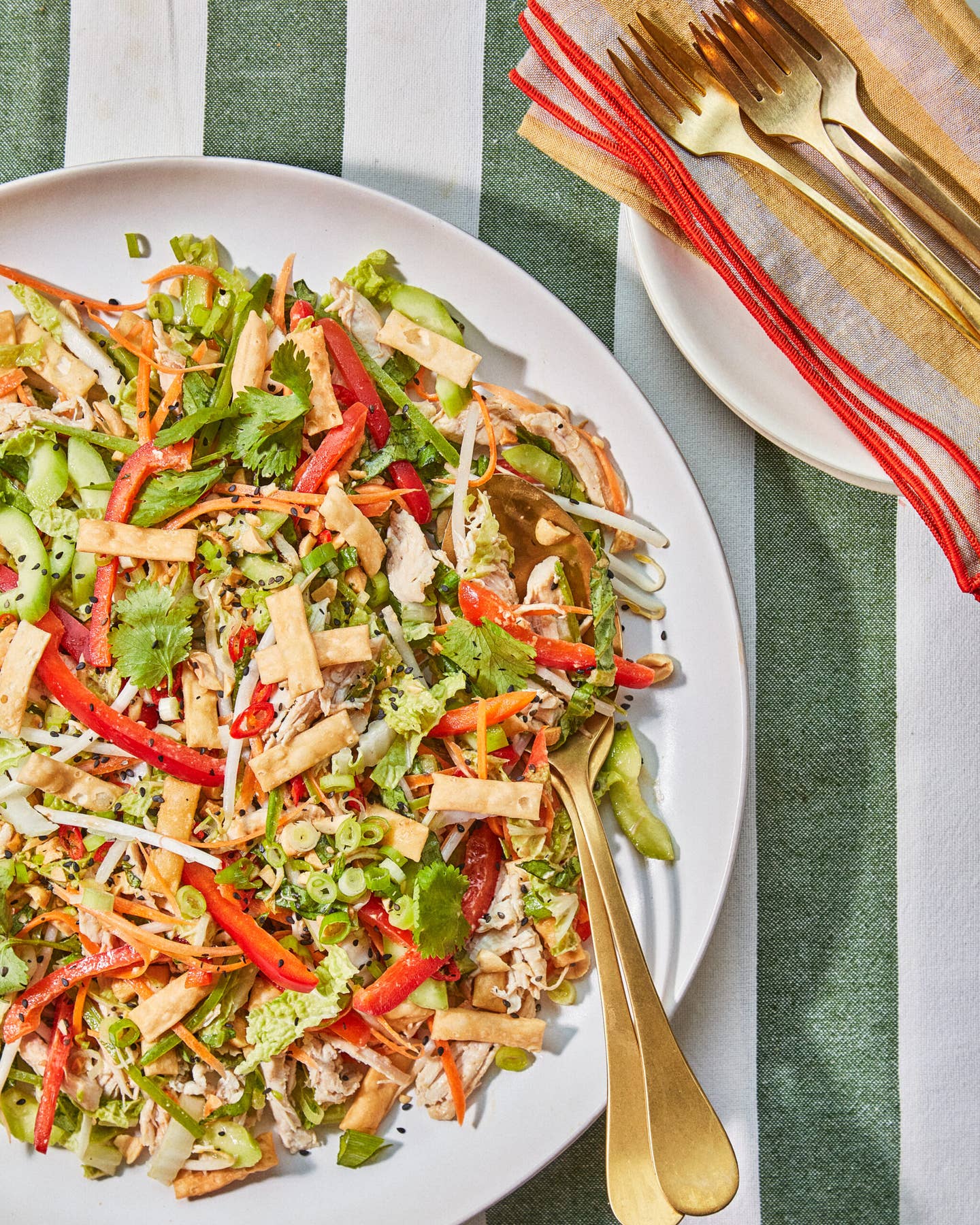 Chinese chicken salad—with its crunchy wonton strips, cubed chicken, and sesame dressing—is a 1990s restaurant staple that we still can't get enough of. But what many don't realize is that it was created not in China but in the kitchen of Sylvia Cheng Wu, a Chinese immigrant who cooked for Hollywood superstars. Our recipe takes inspiration from Wu's original creation as well as versions popularized by chefs who reinterpreted the dish including Wolfgang Puck.
Ingredients
For the dressing:
½ cup vegetable oil
¼ cup rice vinegar
3 Tbsp. smooth peanut butter
3 Tbsp. soy sauce
1 Tbsp. plus 1½ tsp. sesame oil
1 Tbsp. dry mustard powder
1 Tbsp. fresh lime juice
1½ tsp. honey
1½ tsp. toasted sesame seeds
½ tsp. finely chopped fresh ginger
1 garlic clove, finely chopped
Kosher salt and freshly ground black pepper, to taste
For the salad:
Vegetable oil, for frying
5 wonton wrappers, cut into ¼-in. strips
1 lb. 2 oz. cooked bone-in skin-on chicken breasts, shredded
½ cup loosely packed cilantro leaves
½ head Napa cabbage, cored and shredded
½ head romaine lettuce, shredded
3 oz. mung bean sprouts (about ¾ cup)
10 snow peas, thinly sliced
4 scallions, trimmed and thinly sliced
1 medium carrot, peeled and shredded
1 medium cucumber, peeled, seeded, and thinly sliced
1 medium red bell pepper, seeded and thinly sliced
1 bird's-eye chile, thinly sliced, for garnish (optional)
Black sesame seeds, for garnish
Coarsely chopped roasted peanuts, for garnish
Instructions
Step 1
Make the dressing: In a medium bowl, whisk together the vegetable oil, vinegar, peanut butter, soy sauce, sesame oil, mustard powder, lime juice, honey, sesame seeds, ginger, and garlic. Season with salt and black pepper and set aside.
Step 2
Make the salad: Into a small heavy-bottomed pot fitted with a deep-fry thermometer, pour the oil to a depth of 2 inches. Turn the heat to medium-high, and when the temperature reads 350˚F, add the wontons. Cook, stirring occasionally, until the strips are crisp, 20–30 seconds. Using a slotted spoon, transfer to a paper-towel-lined plate.
Step 3
In a large bowl, toss together the chicken, cilantro, cabbage, and lettuce. Divide the salad among 4–6 serving bowls, then top evenly with the sprouts, peas, scallions, carrot, cucumber, and bell pepper. Drizzle with the dressing, sprinkle on the chile if using, and garnish with the sesame seeds, peanuts, and wonton strips.