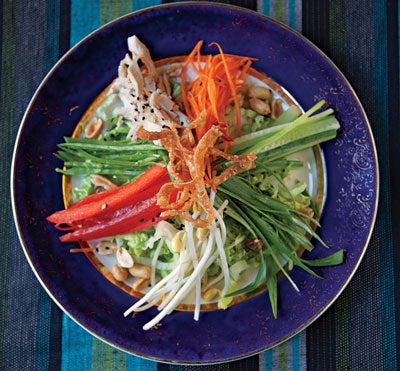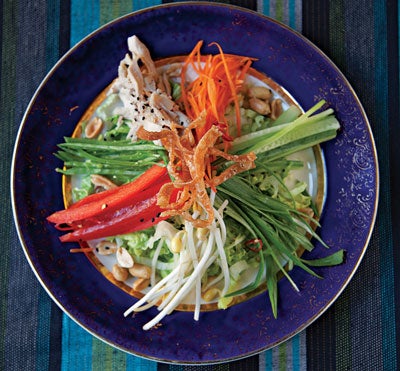 Variations on this salad have been served in Los Angeles everywhere from the Fox Studios Commissary to Wolfgang Puck's Chinois on Main.
Yield: serves 4-6
Ingredients
For the Dressing
1⁄2 cup canola oil
1⁄4 cup rice vinegar
3 tbsp. soy sauce
3 tbsp. smooth peanut butter
1 1⁄2 tbsp. Asian sesame oil
1 tbsp. fresh lime juice
1 tbsp. dry mustard
1⁄2 tbsp. honey
1⁄2 tbsp. toasted sesame seeds
1⁄2 tsp. minced ginger
1 clove garlic, minced
Kosher salt and freshly ground black pepper, to taste
For the Salad
Canola oil, for frying
5 wonton wrappers, cut into 1⁄4″ strips
1⁄2 head Napa cabbage, cored and shredded
1⁄2 head romaine lettuce, shredded
1 1⁄2 lb. bone-in skin-on chicken breasts, roasted and shredded
1⁄2 cup loosely packed cilantro leaves
3 oz. mung bean sprouts
10 snow peas, julienned
4 scallions, thinly sliced
1 red bell pepper, cored, seeded, and julienned
1 carrot, peeled and julienned
1 cucumber, peeled, seeded, and thinly sliced
1 Thai chile, thinly sliced, for garnish
Black sesame seeds, for garnish
Roasted crushed peanuts, for garnish
Instructions
Make the dressing: Whisk together oil, vinegar, soy sauce, peanut butter, sesame oil, lime, mustard, honey, sesame seeds, ginger, and garlic in a bowl. Season with salt and pepper; set dressing aside.
Make the salad: Pour enough canola oil into a 1-qt. saucepan that it reaches a depth of 2″; heat over medium-high heat until a thermometer reads 350˚. Add wontons; cook until crisp, 20–30 seconds. Using tongs, transfer strips to paper towels; set aside.
Combine cabbage, lettuce, chicken, and cilantro in a bowl; divide between plates. Arrange sprouts, peas, scallions, peppers, carrots, and cucumbers over each salad; drizzle with dressing. Garnish with chiles, sesame seeds, peanuts, and wonton strips. Alternatively, toss everything together in a bowl.