Chocolate-Dipped Coconut Macaroons (Kokosmakronen)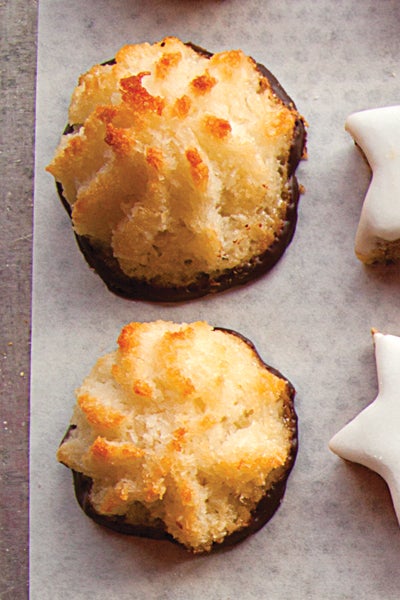 The recipe for these Christmas cookies comes from the bakery Rischart in Munich. This recipe first appeared in our December 2012 issue along with Todd Coleman's story Bavarian Dream.
Yield: makes about 16 cookies
Ingredients
1⁄2 cup sugar
1⁄4 cup heavy cream
4 tbsp. unsalted butter, melted
3 tbsp. flour
1⁄2 tsp. vanilla extract
1⁄2 tsp. kosher salt
2 egg whites, plus 1 whole egg
2 cups unsweetened, dessicated coconut
4 oz. semisweet chocolate, melted
Instructions
Heat oven to 350°. Whisk together sugar, cream, butter, flour, vanilla, salt, egg whites, and egg in a bowl until smooth; stir in coconut. Transfer to a piping bag fitted with a 3⁄4″ fluted tip; pipe 1 1⁄2″-wide mounds on parchment paper-lined baking sheets, spaced 2″ apart. Bake until golden brown, about 15 minutes; cool. Dip bottom of each cookie in chocolate; chill until chocolate sets.
NOTE: This recipe has been adjusted from the version that ran in the print edition of SAVEUR. The yield has been decreased, and the quantity of flour has been increased.