Recipes
Schokiladen-Butter-plätzchen (Chocolate-Dipped Shortbread Cookies)
Serves

makes About 2 1/2 Dozen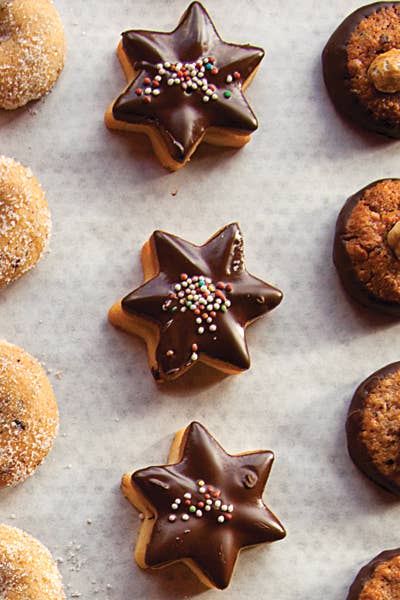 The recipe for these Christmas cookies comes from the bakery Rischart in Munich. This recipe first appeared in our December 2012 issue along with Todd Coleman's story Bavarian Dream.
Ingredients
12 tbsp. unsalted butter, softened
1⁄4 cup sugar
1 tbsp. vanilla extract
2 cups flour, plus more for dusting
1⁄2 tsp. kosher salt
4 oz. semisweet chocolate, melted
Multicolored nonpareils, to decorate
Instructions
Step 1
Heat oven to 400°. Beat butter, sugar, and vanilla in a bowl with a hand mixer on medium-high speed until fluffy. Add flour and salt; beat. Transfer dough to a floured work surface, form into a disk, and roll until 1⁄3" thick. Using a 1 3⁄4" star cutter, cut out cookies; transfer to parchment paper-lined baking sheets, spaced 2″ apart. Bake until brown, 6–8 minutes; cool. Dip top of each cookie in chocolate; decorate with nonpareils. Chill until set.