Recipes
Easy-to-Make Chocolate Gelato Recipe
A Sicilian favorite, this rich dessert is creamy, cool, and wonderfully satisfying.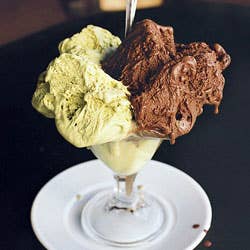 In the late 1600s Sicilian ice cream makers were famous throughout Italy, creating their frozen delicacies only for aristocratic households. It wasn't until the late 19th century that ice cream became available to the masses—and every time we prepare this irresistible chocolate gelato recipe and pair it with pistachio gelato, we are so thankful it did!
Ingredients
3 cups milk
3⁄4 cup sugar
2 tbsp. cornstarch
3⁄4 cup unsweetened cocoa
Instructions
Step 1
Bring 2 cups of the milk to a simmer in a medium saucepan over medium heat, then remove from heat. Combine remaining 1 cup milk, sugar, cornstarch, and cocoa in a bowl, add to hot milk, and cook until sugar and cocoa dissolve.
Step 2
Set aside to let cool, then cover and refrigerate overnight. Process mixture in an ice cream maker according to manufacturer's directions.