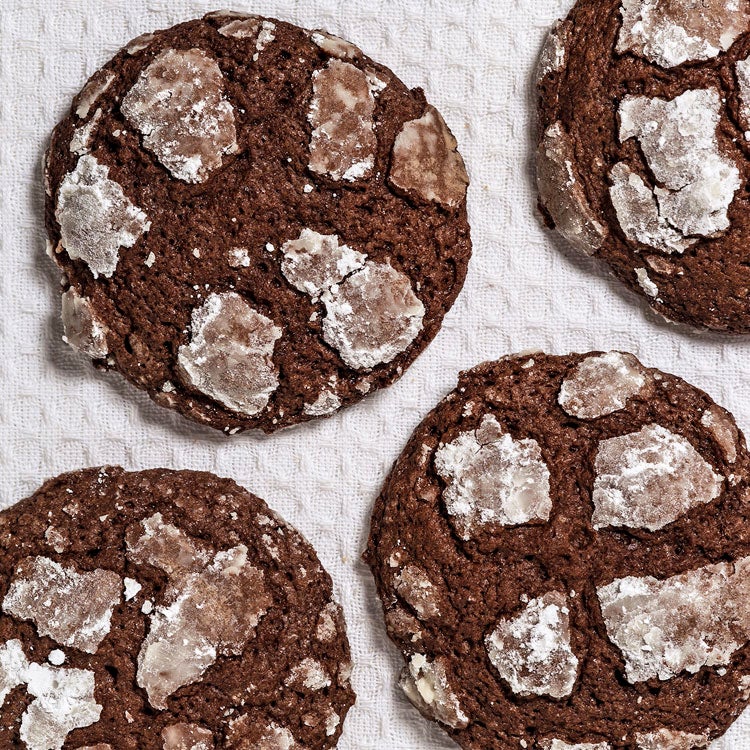 This recipe, from Pichet Ong, pastry chef and author of The Sweet Spot, appeared in our 2012 Cookie Advent Calendar. Pichet says: "When I think of pairing chocolate with another flavor, mint is the first thing that comes to mind during the holiday season. The best part of this easy recipe is the soft, devil's food cake-like texture. Be careful, they are intensely addictive!"
Chocolate Mint Krinkles
Pichet Ong shares his recipe for addictive chocolate-mint holiday cookies with a soft, devil's food cake-like texture.
Yield:
makes ABOUT 3 DOZEN
Ingredients
2 2⁄3 cups flour
1⁄3 cup plus 2 tbsp. Dutch-process cocoa powder
1 tbsp. baking powder
1 1⁄2 tsp. kosher salt
6 oz. bittersweet chocolate, melted
2 1⁄3 cups sugar
1 1⁄3 cups vegetable oil
1 tbsp. vanilla extract
1 tbsp. mint extract
6 eggs
Zest of 1/2 orange
Confectioners' sugar, for rolling
Instructions
Heat oven to 350°. Whisk together flour, cocoa, baking powder, and salt in a bowl; set aside. Whisk together chocolate, sugar, oil, both extracts, eggs, and zest in another bowl; pour over dry ingredients, and stir until just combined.
Using a 2-oz. ice cream scoop, portion balls of dough and roll completely in confectioners' sugar to coat; place on parchment paper-lined baking sheets, spaced 3″ apart; bake until top is cracked and middle is barely set, about 10-12 minutes.