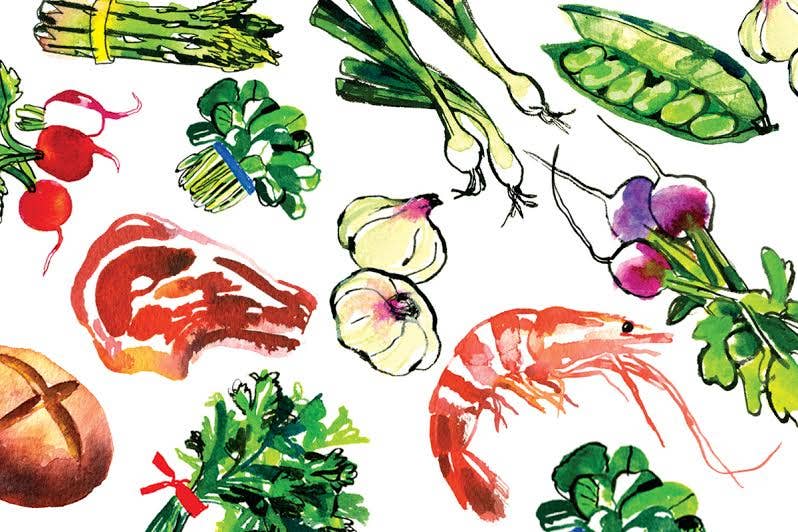 Recipes
Aunt Mattie's Old-Fashioned Chocolate Sheet Cake
Test kitchen assistant Julie Tanous shared this recipe for her Aunt Mattie's moist chocolate cake, served under a veil of sugary milk-chocolate icing that dries slightly as it sets up.
½ cup, plus 2 tbsp. shortening, plus more for greasing
1 ¾ cup cake flour, sifted
1 tsp. baking soda
½ tsp. salt
¾ cup, plus ⅔ cup milk
¼ cup vinegar
10 tbsp. unsweetened cocoa powder
3 cups sugar
2 eggs
2 tsp. vanilla extract
8 tbsp. unsalted butter, cut into ½" pieces and chilled
1. Heat oven to 375°. Grease a 9" x 13" baking dish and line with parchment paper; set aside. Whisk flour, baking soda, and salt in a bowl, set aside. Combine ¾ cup milk and vinegar in a bowl; set aside. Using a hand mixer, beat 2 tbsp. shortening and 6 tbsp. cocoa powder in a bowl until smooth; set aside. In another bowl, beat remaining shortening plus 1 cup sugar until fluffy; beat in cocoa mixture, eggs and 1 tsp. vanilla. Alternate adding dry ingredients in 2 batches and milk mixture in 1 batch; beat until batter is smooth. Pour batter into prepared baking dish; bake until a toothpick inserted into cake comes out clean, about 25 minutes. Transfer baking pan to a wire rack; poke holes in cake with a toothpick and let cool slightly.
2. Make the glaze: Bring remaining milk, cocoa and sugar to a boil in a 1-qt. saucepan; cook, whisking constantly, until bubbling and thick, 4-6 minutes. Remove from heat and stir in remaining vanilla; slowly add chilled butter and stir until smooth. Let icing cool to room temperature; pour over cake and refrigerate until icing is set, 5-10 minutes.