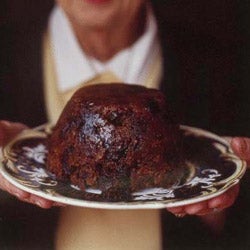 This recipe from Peter Ward, proprietor of Country Choice in Nenagh, Ireland, was served with our choice of brandy butter or boozy whipped cream.
Christmas Pudding
This rich, fruity pudding is a delicious holiday tradition throughout Britain.
Ingredients
2 cups quality assorted raisins
2 cups brandy
1 1⁄2 oz. quality assorted candied fruits, such as pitted apricots, cherries, melon, and citrus peel, cut into thin strips
5 tbsp. cold beef suet or butter, diced
1 3⁄4 cups fine day-old bread crumbs
1 cup blanched almond meal
1⁄4 cup dark muscovado sugar
3 tbsp. flour
2 tbsp. shredded unsweetened coconut
2 tbsp. finely grated peeled carrot
1⁄2 tsp. finely grated lemon zest
1⁄4 tsp. finely grated orange zest
1 pinch ground cinnamon
1 pinch freshly grated nutmeg
1 egg
1⁄2 tsp. dark treacle or molasses
1⁄3 cup Guinness stout
2 tbsp. fresh orange juice
3⁄4 tsp. fresh lemon juice
Brandy Butter (optional)
Whiskey cream (optional)
Instructions
Macerate raisins in brandy for 1 hour. Drain, reserving 1⁄3 cup of the brandy. Preheat oven to 450°.
Put raisins, candied fruits, suet or butter, bread crumbs, almond meal, sugar, flour, coconut, carrots, zests, cinnamon, and nutmeg into a large bowl and stir well. Combine egg and treacle or molasses in another bowl. Stir in beer, juices, and reserved brandy, add to fruit mixture, and mix until evenly moist. Pack half the batter into each of 2 greased 2 ½-cup glazed-ceramic or glass bowls (about 3″ deep × 5″ wide). Cover each bowl with 2 layers each waxed paper, then foil; secure with twine. Put bowls on a rack set in a wide deep pot. Add boiling water to pot to reach 2″ up sides of bowls. Cover pot and steam puddings in oven, replenishing water as necessary, for 4 1⁄2 hours.
Remove bowls from pot and let cool. Store puddings in a cool, dark, dry spot (or refrigerate) for at least 1 day and up to 2 years. If storing for longer than 1 day, replace covers. Reheat puddings by steaming them, still covered, for 1 hour. Unmold onto plates.