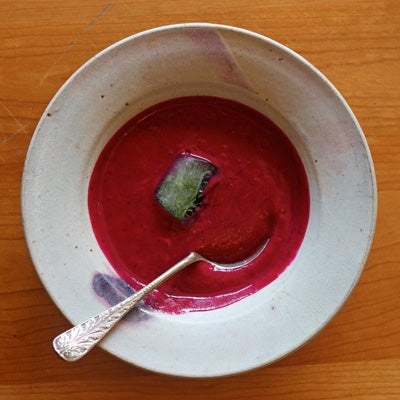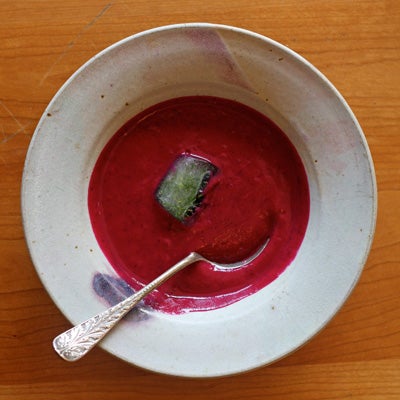 Earthy beets, cooked and chilled, and blended with yogurt, dill, and lemon, make for a bright, perfectly balanced borscht-inspired bowl. Lemon-dill ice cubes provide a cooling garnish for this summery soup. The beets can be boiled or roasted before being cooled. The ice cubes should be made at least five hours, and up to four days, before serving. This recipe was developed by assistant editor Anna Stockwell for her story on cold yogurt soups.
Find this recipe in our cookbook, SAVEUR: Soups and Stews
Yield: serves 4
Ingredients
FOR THE ICE CUBES
3 tbsp. fresh dill, finely minced
1 tbsp. lemon juice
1⁄8 tsp. salt
FOR THE SOUP
1 lb. beets, cooked, chilled, and peeled
1 1⁄4 cups plain yogurt
1⁄4 cup fresh dill
4 tbsp. lemon juice
1⁄2 tsp. salt
Instructions
Make the ice cubes: Divide the dill, lemon juice, and salt among 4 cubes of an ice cube tray. Top off with cold water and freeze until solid.
Make the soup: In a blender, combine beets, yogurt, dill, lemon juice, and salt. Blend on high speed until completely smooth. Adjust seasonings if necessary. Portion soup into individual bowls and top each with a lemon-dill ice cube.