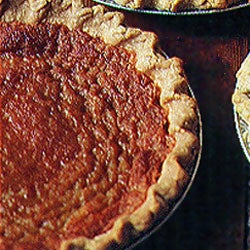 The trick to making an old-fashioned custard pie is to cook it very slowly and evenly—don't be tempted to open the oven to peek until near the end of the baking time.
Yield: makes One 9" Pie
Ingredients
3 eggs
3⁄4 cup sugar
1 1⁄2 cups milk
1 tsp. vanilla
1⁄4 tsp. nutmeg
1 (9″) unbaked pie shell
Instructions
Preheat oven to 425°. Prick 9″ unbaked pie shell all over with a fork and bake till lightly browned, about 10 minutes. Remove; lower oven to 300°.
Beat eggs, sugar, milk, vanilla, and nutmeg in a large bowl. Pour into crust. Bake until custard is set but still a bit wobbly, about 1 hour. Cool completely before cutting.