Everyday Fried Noodles (Tian Tian Chao Mian)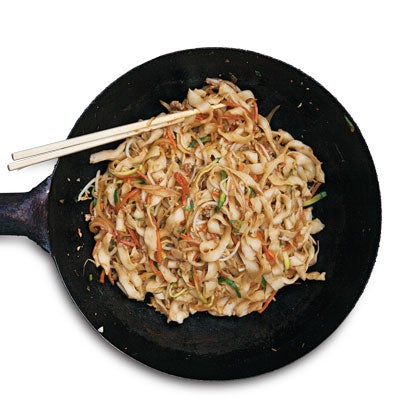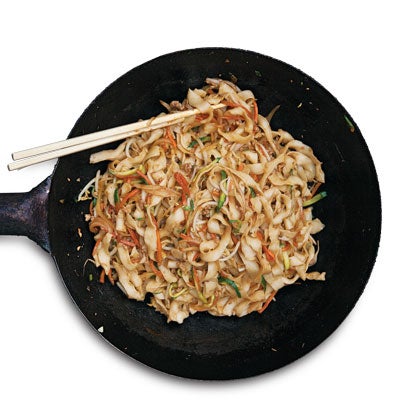 One of the best things about living in northern China is the abundance of noodles, and this simple, salty-sweet stir-fry of silken noodles and crisp-tender vegetables is one of my favorite ways to use them. When my friend Sun Guoying makes it, she introduces dry and wet ingredients to the wok in a strictly prescribed order. First, carrots and onions are stir-fried to draw out their sweetness and are then removed from the wok before they overcook. Next, ground pork is browned with minced ginger and garlic, which release their fragrance into the hot oil. Dark soy sauce and rice cooking wine—two staples of Chinese stir-frying—are added and boiled along with sugar to create a concentrated sauce that will cling to the parboiled noodles, which complete their cooking in the wok. What I love best are the grace notes added at the very end: the strips of fresh, salted cucumber and the drizzle of fragrant sesame oil.
Everyday Fried Noodles (Tian Tian Chao Mian)
The silken noodles in this northern Chinese stir-fry are a perfect foil for crunchy fresh vegetables; a little ground pork gives the dish a savory depth. Step-by-step photo gallery on how to make everyday fried noodles.
Ingredients
1⁄2 small seedless cucumber, peeled and julienned
Kosher salt, to taste
3 tbsp. canola oil
1 medium carrot, julienned
1 onion, thinly sliced
1⁄4 lb. ground pork
4 cloves garlic, minced
1 (1″) piece ginger, minced
6 scallions, minced
1 1⁄2 tbsp. dark soy sauce
1 1⁄2 tbsp. rice cooking wine
1 1⁄2 tsp. sugar
2 cups bean sprouts
6 oz. dried flat noodles, boiled and rinsed under cold water
1 tbsp. Asian sesame oil
Instructions
Toss cucumbers and a pinch of salt together in a small bowl; let sit 5 minutes. Heat a 14″ wok (or stainless-steel skillet) over high heat until it begins to smoke. Add 1 tbsp. oil around edge of wok; swirl to coat bottom and sides. Add carrots and onions; cook until softened, about 1 minute. Transfer to a plate; set aside.
Return wok to high heat and add remaining oil. Add pork, garlic, ginger, and half the scallions; cook, breaking pork into small pieces, until browned, 3-4 minutes.
Add soy sauce, wine, sugar, bean sprouts, and carrots and onions. Cook, stirring, until hot, about 30 seconds.
Add cucumbers, remaining scallions, noodles, and sesame oil; cook, tossing, until hot, about 1 minute. Season with salt.