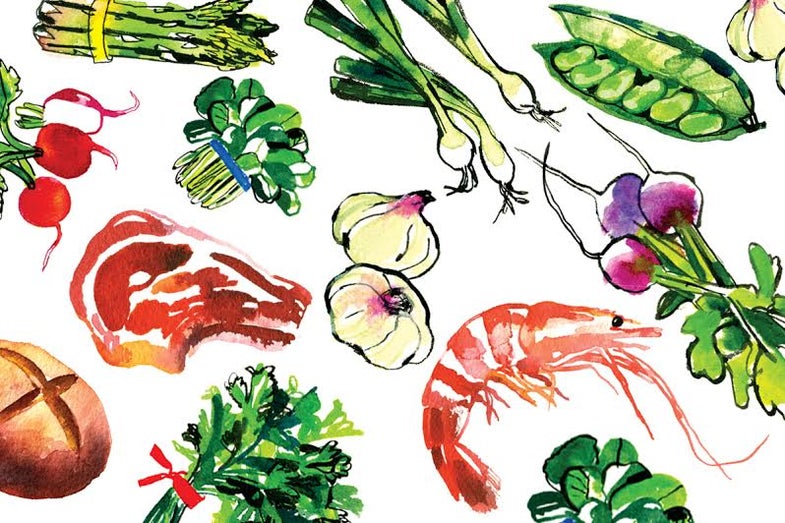 When your recipe calls for a fish stock with a strong flavor, look no further than this savory preparation.
Yield: makes 2 1/2 Quarts
Ingredients
3 Tbsp. extra-virgin olive oil
3 small washed leeks, white parts only, diced
1 celery stalk, diced
1 fennel bulb, diced
2 medium carrots, peeled and diced
Zest of 1⁄2 orange, chopped
3 cloves garlic, peeled and crushed
3 tomatoes, coarsely chopped
4 sprigs fresh parsley
1 sprig fresh thyme
1 bay leaf
5 black peppercorns
6 fish carcasses (with heads)
1 bottle dry white wine
Instructions
Heat olive oil in a large stockpot over medium-low heat. Add leeks, celery, fennel, carrots, and orange zest, and cook, stirring occasionally, until vegetables are soft, about 15 minutes.
Add garlic, tomatoes, parsley, thyme, bay leaf, and peppercorns, and continue to cook for 1–2 minutes. Break fish carcasses into large pieces; add to vegetables along with wine and 4 quarts water. Increase heat to medium-high, bring stock to a boil, then reduce heat to medium and simmer uncovered for 1 hour, skimming foam as it rises.
Allow stock to cool slightly, then strain through a fine strainer, return to pot, and reduce by about half over medium-high heat for about 30 minutes. Use immediately or freeze.