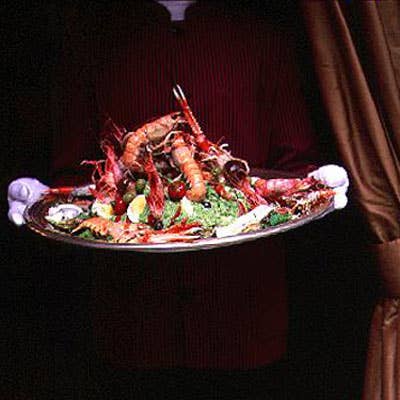 Recipes
Fish and Vegetable Salad (Cappon Magro)
This Genoese classic, which may have been invented to use up leftovers, has evolved into an elaborate set piece of fish and vegetables.
To assemble one of the most original and addictively delicious specialties of northern Italian cuisine, split some firm, dry gallette marinare (ship's biscuits), rub cut sides with garlic, drizzle them with vinegar, and place the gallette on a large platter.
3 ship's biscuits
5 cloves garlic, peeled; 1 whole, 4 minced
1 cup red-wine vinegar
Salt
3 large carrots, peeled
1 medium zucchini
2 medium potatoes
2 medium beets, peeled
1/2 lb. green beans, trimmed
1/2 head cauliflower, cored
10 baby artichokes
1 3/4 cups extra-virgin olive oil
Freshly ground black pepper
1- large shrimp or prawns, unpeeled
1 2-lb. cod filet
4 slices country-style Italian bread, 1/2"-thick, crusts removed
2 cups packed fresh parsley leaves
2 tbsp. pine nuts
6 hard-cooked eggs; 5 whole, 1 sliced
20 oil-packed anchovy filets, drained and finely chopped
1/4 cup large capers, drained
10 green or black olives, pitted
10 oil-packed baby mushrooms
10 pickled cherry peppers
10 oysters, such as blue point
Rub cut-side of each ship's biscuit with whole garlic clove. Place biscuits on a platter and sprinkle with 1/4 cup vinegar and 1/2 cup water.
2. Bring a pot of salted water to a boil over high heat. Trim and cut carrots, zucchini, potatoes, and beets into 1/2"-thick slices; cut green beans in thirds; divide cauliflower into florets; trim and quarter artichokes. Cook each separately (begin with artichokes and end with beets) until tender. Drain and refresh in cold water. Dress vegetables (keep each kind separate) with 1 generous tbsp. each, vinegar and oil. Season with salt and pepper.
Bring a medium pot of salted water to a boil. Add shrimp and cook until pink and firm, 1-2 minutes. Drain and set aside. Place cod in a large skillet, add enough water to cover, season with salt, bring just to a simmer over medium heat, cooking until fish flakes, 12-15 minutes. Drain, cool, flake, and dress with oil and vinegar. Set aside.

Place bread in a bowl, add 2 tbsp. vinegar and 1/4 cup water, and set aside until liquid is absorbed. Transfer to a food processor; add remaining garlic, parsley, pine nuts, 3 of the egg yolks (coarsely chop the whites and set them aside), one-third of the anchovies, half of the capers, and 3/4 cups water. Puree until smooth, then drizzle in 1 cup oil. Add more water if salsa is too thick.
5. To assemble, spread remaining anchovies on ship's biscuits, top with alternating layers of vegetables (one kind per layer) and cod (about 3 layers total). Spread a bit of salsa over each layer of cod; insert sliced egg and chopped white midway through. Layer until all ingredients are used up; finish with potatoes. Spread salsa over top. Quarter remaining eggs; use to garnish with shrimp, olives, mushrooms, peppers, and oysters.