Fresh Green Beans with Coconut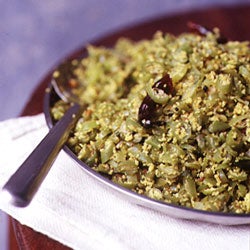 Thoren is a dry curry made with a single type of vegetable. Author Maya Kaimal's family likes this version. See In the Kerala Kitchen, for information on Indian ingredients.
(Achingya Thoren)
Fresh Green Beans with Coconut
This vegetable dish from South India is a dry curry made with a single type of vegetable.
Ingredients
15 curry leaves
3⁄4 cup finely grated fresh coconut or finely shredded dried unsweetened coconut
1 1⁄4 tsp. ground cumin
2 pinches cayenne
1⁄4 tsp. turmeric
2 cloves garlic, peeled and minced
2 tbsp. vegetable oil
1 tsp. brown mustard seeds
1 tsp. hulled, split urad dhal (black gram beans) or raw rice
2 whole dried hot red chiles, stemmed
3⁄4 lb. green beans, trimmed and sliced crosswise into 1/4″ pieces
1 tsp. salt
Instructions
Finely chop 5 of the curry leaves, and put in a medium bowl. Add coconut, cumin, cayenne, turmeric, and garlic, and mix well. Add enough water (about 5 tbsp. for fresh coconut, 7 tbsp. for dried) to make coconut mixture moist enough to just hold together when pinched between thumb and forefinger, then set aside.
Heat oil in a wok or large skillet over medium heat. Add mustard seeds and urad dhal or rice, and fry until mustard seeds pop and dhal turns light brown, about 2 minutes. Then add chiles, fry for a few seconds, and carefully add remaining 10 curry leaves (leaves will spatter when they hit the hot oil). When curry leaves have crackled but are still green, about 30 seconds, add green beans, salt, and 2 tbsp. water, and stir to mix well. Cook, stirring often, until beans begin to soften yet are still slightly crunchy, about 5 minutes. Stir in reserved coconut mixture, and cook, stirring often, until beans are tender, about 5 minutes more. Add salt to taste.