Fried Artichoke Hearts with Taratur Sauce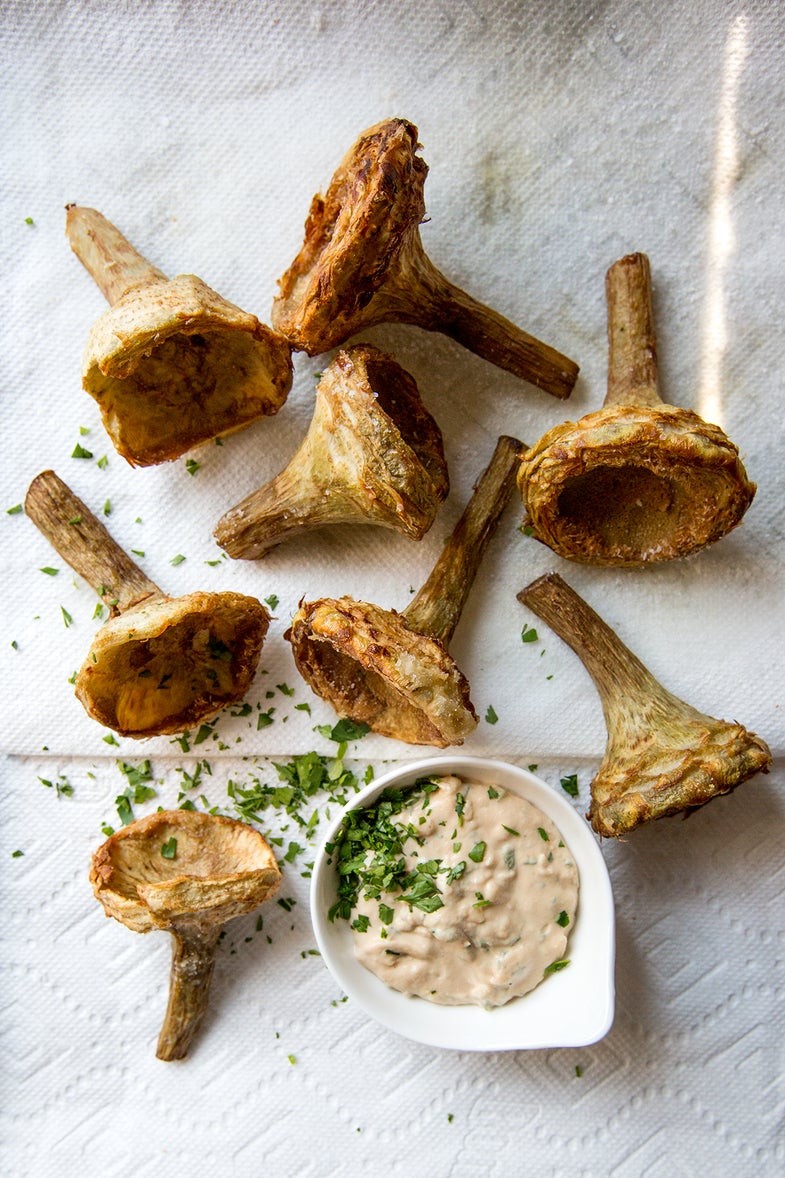 We found this recipe—a flavorful local favorite, in which tender artichoke bottoms are fried and served with an intense, tahini-based sauce—at al-Az, a casual but well-known restaurant in Damascus.
Fried Artichoke Hearts with Taratur Sauce
Crisp up tender artichokes with a quick swim in the deep-fryer, and serve alongside an an intense, tahini-lemon sauce.
For the Taratur Sauce
6 cloves garlic
2 tsp. salt
1⁄2 cup tahini (Middle Eastern sesame seed paste)
1⁄2 cup fresh lemon juice
3 tsp. chopped fresh parsley
For the Artichokes
4 cups olive oil
8 hearts of steamed medium artichokes, halved if large
1⁄2 cup flour
Salt
Instructions
Place garlic and salt in a mortar and grind to a paste with pestle. (Garlic can also be very finely chopped.) Transfer garlic paste to a bowl and add tahini. While stirring, drizzle in lemon juice. Thin to the consistency of a thick dip with up to 3 tbsp. water. Stir in 2 tsp. of the parsley.
Heat oil to 375° in a medium saucepan over medium-high heat. Dredge artichokes in flour, and shake off excess. When oil is hot (a toothpick dropped in oil will quickly turn dark brown when oil is ready), fry artichokes, a few at a time, turning occasionally, until golden, about 2 minutes. Remove with a slotted spoon, drain on paper towels, and sprinkle with salt. Serve with taratur, garnished with remaining 1 tsp. parsley.